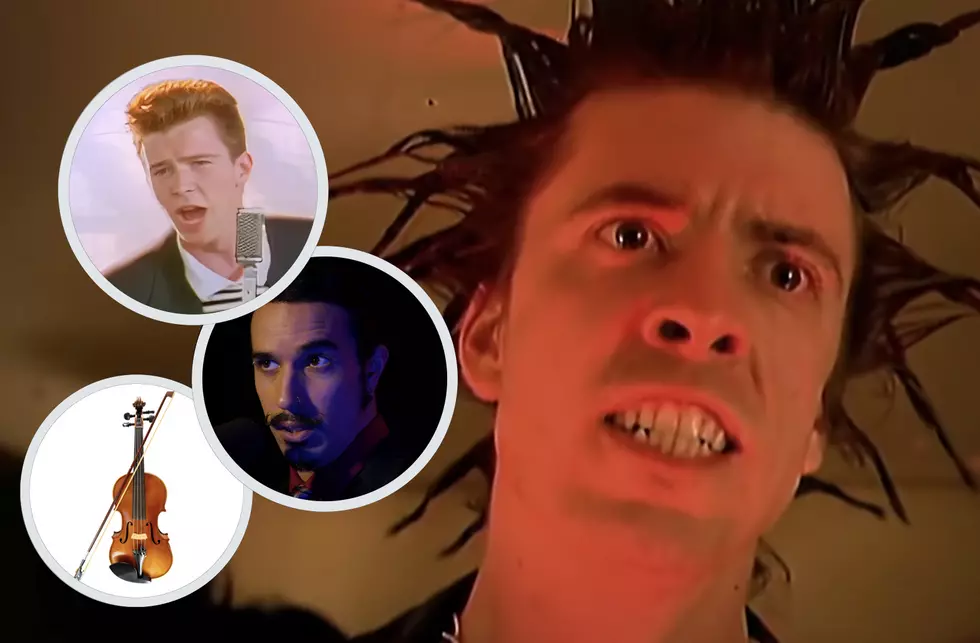 10 Best (and Very Different) Covers of Foo Fighters' 'Everlong'
YouTube: Foo Fighters / YouTube: MusRest / YouTube: Anthony Vincent / S_Tanongsak, iStock
May marks the anniversary of Foo Fighters' The Colour and the Shape, a monumental album for the band and rock music in general—particularly with the track "Everlong," a rare epic rock love song that became one of the most iconic rock songs of the past quarter century. It's a song that cracks open that vulnerability and the need to truly just feel, which feels particularly important after the loss of drummer Taylor Hawkins.
While writing "Everlong," Grohl was going through a divorce while also falling in love with Veruca Salt's Louise Post, creating a song full of beautiful yearning and pain and hope.
While there is a surprising lack of "Everlong" covers in the musical stratosphere — maybe the pressure is too imposing? — the ones we did unearth include more than a few impressively faithful renditions, along with some true diamonds in the rough that range from smooth jazz to death metal.
Read on and enjoy this list of 10 "Everlong" covers, which is not ranked, but ends with our personal favorite, based on quality and creativity.
By: Clef Hangers

In the Style Of: Acapella

A North Carolina staple of Tar Heel tradition, the Clef Hangers' 2005 "Everlong" cover may feel like a playing-it-safe version, but it's done beautifully in the a capella style — especially when you could swear you're hearing those ever-present drums.

The intro sets a faster pace than the original and balances out the very spot-on vocals and whispered segment, which was originally Salt's whispers about the dream she was having when Grohl called her at 2AM to record in the middle of the night over the phone; he subsequently recorded it over later as a love letter to her.

By: The Color Morale

In the Style Of: Post-Hardcore/Pop-Punk

This rendition starts and ends with a romanticized Deftones-y feeling and vocal quality — although some might call it shitty reverb effect — but this feels like an interesting choice riffing on the original ghostly vibe.

The Color Morale drags it through the instrumentals, almost as if reimagining a painting, with brush strokes mixing different mediums to blend. They changed up the middle of more than many of the others, before launching into a more aggressive breakdown and switching to straight acoustic for the last few seconds.

Ultimately, it's quite a lot of different styles to swallow at once.

By: Richard Cheese & Lounge Against the Machine

In the Style Of: Swanky Lounge

A seasoned well-known cover band/comedy act, Richard Cheese is known for performing popular songs to sold-out crowds in a loungy, swing style, and this is from their 2015 album Supermassive Black Tux. Shorter than the original "Everlong" and any other cover, this may lack a bit of the depth and bravado of a vintage lounge singer, but, hey, it's The Cheese!

On the other hand, it brings a certainty that the original Foo Fighters' version lacks, and a heightened feeling of melancholy. With a piano accompaniment, it is a simple, sweet rendition.

By: Rick Astley

In the Style Of: Acoustic Rockabilly

While some could argue that the best "Everlong" cover is done by Dave Grohl himself, when he played it on Howard Stern's radio show in '98 and then put it on their '06 live album and '09 Greatest Hits, this 2020 version by English songwriter Rick Astley is a close second.

It's all about the whiskey-soaked vocals, lovely urgent acoustic strumming, and it feels more desperate — in a good way. Known for a long spanning career that touches on dance pop blues soul, Astley has actually performed onstage with the Foo Fighters in London and at Cal Jam on his own song "Never Gonna Give You Up."

By: Midnite String Quartet

In the Style Of: String Quartet (duh!)

With the ongoing surge in classical renditions of popular songs, it's no surprise that "Everlong" has been snagged by more than a few orchestral outfits. It was a toss up between Midnight String Quartet and Vitamin String Quartet, but the former won with an entire 2015 album of Foo Fighters covers.

While classical music can sometimes have that soulful yet desperate quality that tugs on the heart, this cover was hopeful, upbeat and well-paced, drawing out against the fast tempo. It presents a very lyrical quality despite a lack of vocals.

By: Matt Duncan

In the Style Of: Bandstand meets R&B

Matt Duncan is a classically trained instrumentalist and songwriter, and this cover has a vintage feel (it could be at home in an episode of Mad Men), with a creamy vocal quality much clearer than Dave Grohl's on point syncopation and beautiful production quality.

It's unexpected and gets in your head like an earwig, with its delicate piano chords, brass harmonies, thick bass and Duncan's blue-eyed-soul vocals. This version brings appreciation for "Everlong" in a totally different, albeit unexpected way.

By: Anthony Vincent

In the Style Of: Smooth Jazz

You'll think you entered some smoky '80s jazz lounge when you hear YouTuber Anthony Vincent's soaring, slow-drip, uniquely paced "Everlong" rendition. He ditches the guitars for a flowing big band sound, and the slow jazz quality makes it danceable and relaxing.

There's no denying Vincent's talent; he can sing in the style of Tool and is known for his videos of turning a song into multiple different genres (i.e. Adele and more). He's even made a synthwave cover of Alice in Chains.

By: Hivesmasher

In the Style Of: Technical Death Metal/Grindcore

Come on, it's hard not to respect a full-on death metal departure for one of alt-rock's biggest love songs. Death metallers Hivesmasher tore "Everlong" apart and made it their own, with just the perfect touch of metal angst.

From the opening notes it was clear what song it was, but then it plummeted into death metal/speed metal, without overbearing vocals, highlighting the guitar melody and steady blast beats. It was originally released as the "secret track" available at the end of their album Gutter Choir.

By: Grabbitz

In the Style Of: Whimsy Electronic

Nicholas Chiari, better known by his stage name Grabbitz, offers one of the more recent covers (2021), and vocally, it sounds arguably the closest to Dave Grohl. It's a nicely done reimagination in the style of EDM, with the bridge softened to mimic the instruments but feeling more upbeat than the original.

This version feels like you're floating through space, with the staccato robotic Do do do and drum machine buildup to the end. Grabbitz' voice is ethereal and it's no wonder he made Rolling Stone's 2017 list of 10 New Artists You Need To Know. This is a cover we could listen to over and over.

By: Evergreen Terrace

In the Style Of: Metalcore

This one tops the list for a few reasons: it's a unique edgy combination of electro-pop, punk and hard rock, with attention to detail when it comes to elevating each element of the song up a few notches. The result ebbs and flows between being a total departure from the original to being spot on in some places.

The background screams — when I sing along with youuuu!—are not overbearing and give it just enough edge; think Killswitch Engage, early days circa The End of Heartache. There's quick drum work, some reverb—and the last 25 seconds is when they really pull the trigger.