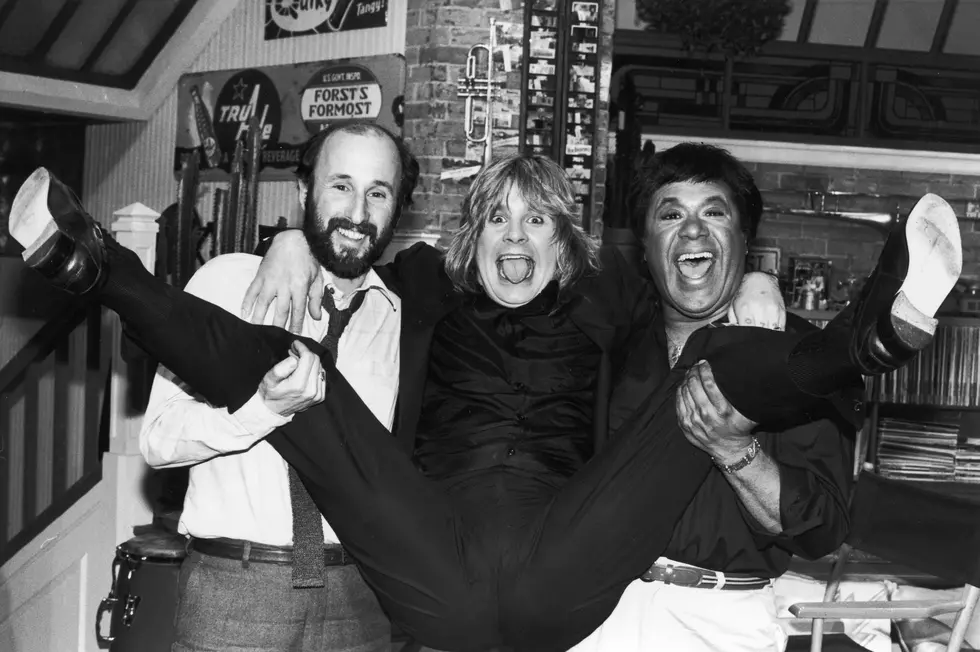 Here are 7 Crazy Things You Didn't Know Ozzy Osbourne Did
Hulton Archive/Getty Images
Ozzy Osbourne has done many crazy things like bite the head off of a bat, and a dove, and urinate at the alamo. Here are Seven things you may not know he did.
Ozzy Osbourne Has Done Some Crazy S@&#!
Ozzy Osbourne has had an amazing music career as a solo artist and his years as the Black Sabbath frontman.
Throughout Ozzy's music career he has also done a lot of crazy stuff like biting the head off a dead bat, a live dove, urinating at the Alamo, snorting ants with Motley Crue, and the list goes on.
7 Crazy Things Ozzy Did You May Not Know About
1. Ozzy Burns Chicken Coop Down
When Ozzy was married to his first wife Thelma, he had already developed serious alcohol and drug problems. In order to try and keep him occupied, Thelma bought him a chicken coop and put chickens in the coop. This was an idea that Ozzy did not like.
Ozzy actually couldn't stand the chickens and didn't like to feed them. After a heavy night of drinking, Ozzy grabbed a shotgun and began shooting up the coop and the chickens. He tossed some shotgun shells in the coop and then set it on fire. You can only imagine what happened to the shotgun shells once the fire got hot.
2. Ozzy Drugged a Man of the Cloth
During Ozzy's first marriage to his wife Thelma, the couple lived in England where they were a member of the Church of England. I know, Ozzy and church, it's pretty hard to believe.
A vicar paid the Osbournes a visit and Thelma offered the man a piece of cake. What she didn't know was Ozzy had laced the cake with some Afghan hashish. The man ate the cake and soon passed out. Ozzy and Thelma loaded him into their car and drove him home. The man felt the effects for three days, but luckily for the Osbournes didn't remember what had happened to him.
3. Ozzy Shoots Cats
Ozzy did really well with Black Sabbath and spent a lot of his money on fancy cars. He bought his wife Thelma a brand new Mercedes Benz. The couple started noticing scratches popping up all over the car. Ozzy found out a bunch of stray cats were climbing on the Benz at night.
Not sure if Ozzy had been drinking or taking drugs, but he did wait for the cats one night with a shotgun, and when they showed up, he blasted as many of the cats as he could before the others escaped.
4. Ozzy Drives Wife to Hospital While Drunk
Ozzy had his first child, Jessica, with his first wife Thelma. We all know how a man can be a scatterbrain trying to get his wife to the hospital on this very important day. Throw a bunch of booze in there and no driver's license and you have Ozzy Osbourne.
Ozzy was hammered and insisted that he drive his wife to the hospital and to top it off he had no license. The couple made it to the hospital and the baby was born without incident.
5. Ozzy Has a Purple Nose for Weeks
Before becoming Black Sabbath, the band was originally called Earth. Ozzy has always been known to be a jokester and would do almost anything to get the crowd's attention. Before a show that Earth was performing, Ozzy found some purple paint backstage and thought it would be funny to paint his nose with it. The problem for Ozzy was, that the paint was not water-based and couldn't be removed. Ozzy had the purple nose for weeks before it finally wore off.
6. Ozzy Gets Drunk at the White House
It's not uncommon for athletes, actors, and musicians to get invited to the White House for dinner. During the George W. Bush administration, they invited Ozzy and Sharon to the White House for dinner. Apparently, there must have been an open bar available because Ozzy got trashed. Ozzy began screaming in front of 1,800 guests at the dinner. Someone heard President Bush say, "This might have been a mistake."
7. Ozzy Charged With Attempted Murder
1989 was the pinnacle of Ozzy's drinking and drug problems. It was no secret during this time he was out of control. There were several accounts of shows where Ozzy and his wife Sharon would get into huge arguments over his alcohol and drug issues. Ozzy strangled Sharon one night and the police arrested him and charged him with attempted murder. Sharon wound up dropping the charges which kept Ozzy from going to prison.
Paul Stanley Year by Year: 1974-2020 Photographs