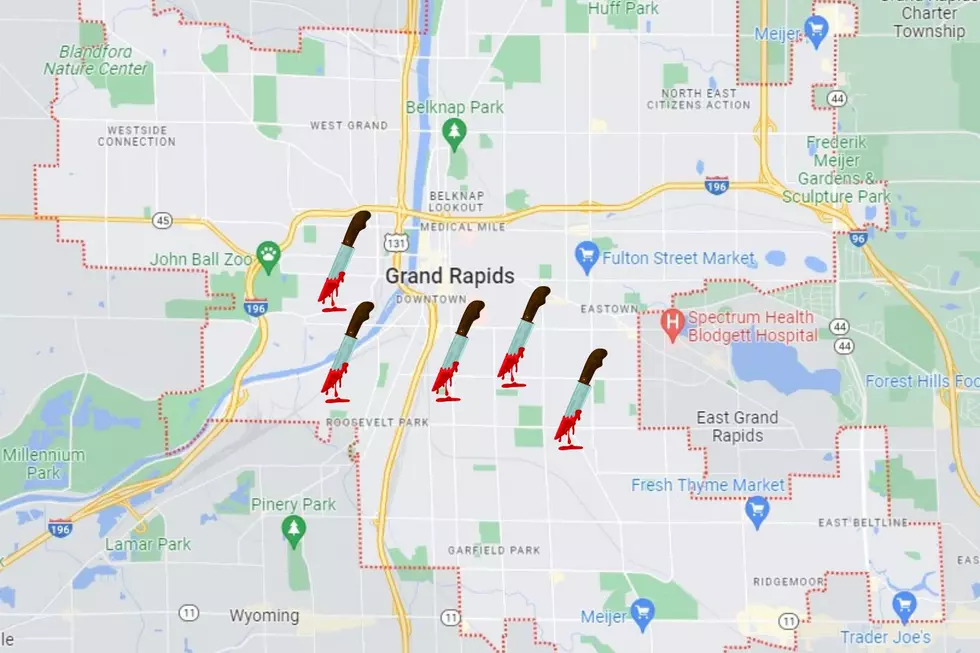 These Are the Top 5 Most Dangerous Neighborhoods in Grand Rapids
Google Maps/canva.com
Grand Rapids is a great city and like any other city, there are some areas that are more dangerous than others.
Top 5 Most Dangerous Neighborhoods in Grand Rapids

Grand Rapids is often referred to as one of the best cities in America to live in. The city is beautiful downtown with several parks, the Grand River, surrounded by a countryside of rolling hills and not far from Lake Michigan.
Grand Rapids is the second most populated city in the state of Michigan with 201,722 residents covering a city area of 45.63 square miles. With that many people, there are bound to be a few problem areas. Below are some of those areas.
5. Swan
The Swan area of Grand Rapids is known for the Grand Rapids Public Museum, The Gerald Ford Presidential Museum, great pubs, restaurants, and riverfront trails.  That being said, the area has roughly just over 1,400 violent crimes reported a year with a population of nearly 4,800.
4. Oakdale
Oakdale is a community of just over 2,500 residents that features lots of companies, churches, and learning centers which are all great things in a community. Oakdale also has just over 1,500 violent crimes reported a year.
3. Baxter
Baxter has nearly 3,000 residents with a neighborhood filled with churches, a community center, and a winery. It seems like a nice place but it is surprising nearly 2,500 violent crimes take place in the area each year.
2. Black Hills
Black Hills is more of an industrial area of Grand Rapids that sits on the South East side of the Grand River. With a population of just over 550 which is not a lot of people, there are just under 3,300 violent crimes a year.
1. South East Community
The South East Community Association has a population of just over 4,200. The area has great nightlife, it is diverse, and good for families. On the flip side of that, there are just under 4,000 violent crimes that happen there each year. That is almost one crime per resident.
Summary
Even though these areas of Grand Rapids have the highest violent crimes, compared to other cities in Michigan and the rest of the country, these numbers are much less than most metropolitan areas.
Data used in this article came from this website.
15 Most Dangerous Cities in Michigan Based on Crime Rates
These are the Michigan cities that have the highest crime rates. Take a look and see if your city made it onto the list.
25 True Crime Locations: What Do They Look Like Today?
Below, find out where 25 of the most infamous crimes in history took place — and what the locations are used for today. (If they've been left standing.)