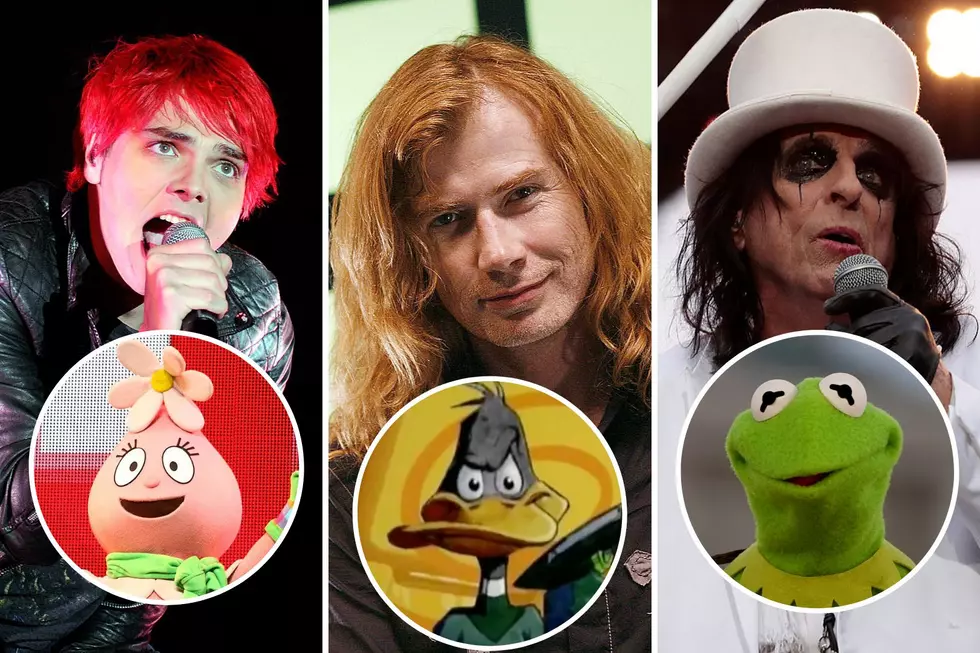 15 Rock + Metal Bands Who've Appeared on Kids TV Shows
Ethan Miller, Getty Images / Imeh Akpanudosen, Stringer/Getty Images / Kevin Winter, Getty Images / YouTube: MERSIFULL WOLF / Cole Bennetts, Getty Images / Jemal Countess, Stringer/Getty Images
One of the best parts of being a rock and metal fan is watching our favorite artists pop up in unexpected places.
Sure, we're keen to catch them at concerts, award shows and record release signings, but there's also something special about seeing them become a part of, say, a seemingly unrelated – if not totally incongruous – TV show. Such collaborations give them a chance to attract new audiences, challenge expectations and reveal new shades of their personalities.
As the following list illustrates, that's not limited to mature entertainment, either, as a bunch of bands have shown up in international programs aimed at younger viewers.
Whether they're performing music, acting in a scene or simply lending a song to a show, here are 15 of our favorite times rock and metal artists appeared on kids shows.
Alice Cooper on 'The Muppet Show'

Alice Cooper routinely demonstrates that there can be a sweet and thoughtful person beneath the sinister artistic persona. His stint in the 1978 Halloween special of The Muppet Show is a great example of that.

Aside from doing classics such as "Welcome to My Nightmare" and "School's Out" (with help from a few puppet musicians), he acted in regular sketches such as "Pigs in Space" and "Muppet Labs." In October 2020, he told Yahoo!'s Lyndsey Parker: "I never had so much fun in my life as doing The Muppet Show." Without a doubt, his audience enjoyed it just as much.

Megadeth on 'Duck Dodgers'

The 2005 "In Space, No One Can Hear You Rock" portion of Duck Dodgers saw Megadeth belting out "Back in the Day" from The System Has Failed. Why? Because Dodgers thawed them out so that they could aid him in defeating the Martians (who wanted to replace all of Earth's music with easy-listening jazz).

Dave Mustaine returned for the series finale ("Bonafide Heroes") – where he's interrogated on a reality TV show – and in 2016, he posted to Twitter: "I did it for my kids at the time. I wish more dads would put their kids first more often."

How heartwarming.

Napalm Death on 'What's That Noise?'

In 1989, grindcore pioneers Napalm Death went on BBC One's What's That Noise? to promote 1988's From Enslavement to Obliteration LP. Back in June, Metal Hammer's Simon Young reflected that the Oct. 10 episode also included Cliff Richard, drummer Alasdair Malloy and "jazz pop act Matt Bianco," so onlookers likely weren't expecting Napalm Death halfway through.

They did "You Suffer" before being questioned by host Craig Charles (of Red Dwarf fame) about their lyrics and short song lengths. Then, they issued a "Parent Hazard Warning" on screen as they launched into the title track of their second album. It's awesome.

My Chemical Romance on 'Yo Gabba Gabba!'

Modern Canadian children's program Yo Gabba Gabba! has featured plenty of popular music groups, with My Chemical Romance being among the coolest. They stopped by during the December 2011 holiday special ("A Very Awesome Christmas") with a typically energetic original song: "Every Snowflake Is Different (Just Like You)."

Decked out in colorful winter attire, they performed on a fake snow set while interacting with various characters and animations. The charming cherry on top is the blue-faced yeti playing keyboards (identity unknown), as well as the fact that the opportunity fulfilled frontman Gerard Way's 2009 wish to work with the show.

Metallica on 'Dave the Barbarian'

Another cartoon clip comes from Disney Channel's Dave the Barbarian. In the first half of 2004's "Here There Be Dragons/Pipe Down!" episode, Dave's pet dragon, Faffy, leads him to the Cave of Peril. Inside, Faffy, Dave, his talking sword (Lula) and his sister (Fang) encounter "terrible dragons" – as the narrator puts it – voiced by James Hetfield and Lars Ulrich. Respectively, they portray Chino and Jett, and they laugh at Faffy before calling him "Shrimpo" and instructing him to act like a proper dragon.

Maybe Dave the Barbarian should've received some of Stranger Things' credit for introducing younger viewers to Metallica.

Taking Back Sunday on 'Yo Gabba Gabba!''

In May of 2010, Yo Gabba Gabba! welcomed another alternative rock/emo group to their recurring "Super Music Friends Show" segment: Taking Back Sunday. They were in-between studio LPs (2009's New Again and 2011's self-titled, to be exact), so they weren't promoting any new material. Instead, they sang the aptly titled – and characteristically bouncy – "We All Love Our Pets" to a small crowd of humans and animal puppets.

The main setting is a faux backyard, yet the gang is also shown doing various activities with the cushy creatures (such as fishing, skateboarding and having a tea party). Obviously, it's very endearing.

Fall Out Boy on 'Teen Titans Go!'

The pop-punk quartet appeared as themselves throughout the 2017 four-part miniseries, "The Night Begins to Shine." Basically, the rest of the team asks Fall Out Boy – and, oddly enough, CeeLo Green – to help them rescue Cyborg from an alternative dimension. Robin's enthusiasm for meeting them is delightful, as is guitarist Joe Trohman's reluctance to get involved unless Batman is, too. Oh, and frontman Pete Wentz laments how he's "the only one that ever wants to play a magic song and turn into a giant robot."

Eventually, all four members concede, leading to them morphing into Transformers-like Fall Out Bot.

Iron Maiden's Nicko McBrain on 'The Sooty Show'

This one goes back to 1988 when the Iron Maiden drummer battled the plushy bear on Sooty's own TV series. In a 2015 interview with Andy Humphreys, McBrain clarifies that manager Rod Smallwood called him to ask if he'd do it. Thinking that his five-year-old son, Nicholas, would get a kick out of it, McBrain agreed. "The idea was that there was a local talent competition and the drummer got sick, so could I stand in? No problem!" he boasts before admitting, "I lost. He was pretty sharp, I can tell you."

Sooty's been featured on McBrain's drum kit ever since.

The Goo Goo Dolls on 'Sesame Street'

The first single from 1998's Dizzy Up the Girl, "Slide," was a big hit despite its heavy subject matter (unexpected pregnancy). Thus, The Goo Goo Dolls modified it to the more family-friendly "Pride" when they guested on the 31st season of Sesame Street two years later.

It's an adorable association that sees lead singer John Rzeznik praising Elmo for completing chores and being self-sufficient. In March of 2019, the band tweeted: "Music has played such an important role on @SesameStreet for 50 years and we are thrilled to have been a part of that! Happy 50th anniversary!"
Well said, boys.

Blindfolded and Led to the Woods on 'The Erin Simpson Show'

This is probably the most "What the hell?" entry here. As Loudwire's Graham Hartmann explained in 2014, a New Zealand tech death band called Blindfolded and Led to the Woods played The Erin Simpson Show because their rehearsal space was next door.

According to The Spinoff's Alex Casey, it was filmed sometime in 2010 (so perhaps they were promoting 2011's Armed to the Teeth with Jellybeans EP). In that same interview, bassist Nick Smith remarked that despite the crowd's age, they still started a circle pit, so the sextet definitely earned at least a handful of fans that day.

Avril Lavigne on Sabrina the Teenage Witch

Given Avril Lavigne's popularity in the early aughts – as well as the target demographic of adolescent sitcom Sabrina the Teenage Witch – it made perfect sense for her to do an ostensibly live rendition of her biggest song ("Sk8er Boi") on the show.

In a nutshell, the November 2002 episode "Bada-Ping!" centered around the eponymous sorceress and some friends watching Lavigne in a nightclub. From there, Sabrina becomes entwined with another musician who's threatened by a gangster (so Lavigne's role stops here). Apparently, just about all of her performance was cut from the DVD release of the show's seventh season. Weird.

Fall Out Boy's Pete Wentz on 'Double Dare'

Now it's just Fall Out Boy's bassist who gets the spotlight, as a 2019 "Kids' Choice Awards" edition of Nickelodeon's Double Dare found Wentz and a fan facing off against another youngster and The Kissing Booth's Joel Courtney. Among other events, each duo had less than 30 seconds to fill a huge orange mug with multiple types of slime.

Naturally, everyone involved made a mess of themselves. Wentz later told People magazine: "I've always wanted to compete on Double Dare since I was a kid. What a gem of an experience — it was more than I could have ever expected."

Foo Fighters' Dave Grohl on 'Ryan's Mystery Playdate'

Ryan's Mystery Playdate (which arose from the "Ryan's World" YouTube channel) has had many exciting guests, including Tony Hawk, Gabby Douglas and Craig Robinson. However, not many were cooler than Dave Grohl during his Halloween 2019 appearance. In the Nick Jr. promo, he playfully states that his "daughter has been watching the show constantly, so it's like meeting a real rockstar. I'm not the rockstar here, Ryan is." The meet-up finds Ryan guessing nursery rhymes as Grohl plays them on kazoo before Grohl's daughter, Ophelia (or Fifi), joins them for a jam. Their chemistry is as vibrant as the set.

Iggy Pop on 'The Adventures of Pete & Pete'

We're betting that a lot of you, like a lot of us, grew up watching The Adventures of Pete & Pete without knowing that James "Pop" Mecklenberg – the father of Michelle Trachtenberg's Nona – was portrayed by the Stooges legend.

In fact, Pop played the character five times between 1994 and 1995 (during the show's second and third seasons). As you can see below, he brought some palpable pathos to the character and added a lot to The Adventures of Pete & Pete's generally heartfelt and relatable storylines. Of course, he also got to sing a bit along the way.

Tenacious D's Jack Black on 'Sesame Street'

There are few entertainers more energetic and childlike than Jack Black, so watching him interact with Elmo is inherently wonderful. Three years before he cameoed in 2011's The Muppets movie, Black stopped by Sesame Street to teach the inquisitive red puppet about the words "Disguise" and "Octagon."

The former bit is quite likable because it allowed the Tenacious D vocalist to dress up in various costumes (such as a clown) prior to transforming into a chicken who lays an egg. That said, the latter is perhaps more noteworthy since it spawned its own meme. Either way, he totally nails it.

BONUS: Pantera on 'SpongeBob SquarePants'

Okay, so the group weren't on SpongeBob SquarePants as themselves or other characters, but their place on the soundtrack validates them nonetheless.

As Loudwire reported in 2018, the May 2001 episode "Pre-Hibernation Week" finds squirrel astronaut Sandy upsetting her neighbors as she prepares for a lengthy rest.

Throughout the 11-minute adventure, her antics are backed by an instrumental version of "Death Rattle" (from Pantera's final studio outing, 2000's Reinventing the Steel). Three months later, the SpongeBob SquarePants: Original Theme Highlights album offered a shortened version appropriately renamed "Pre-Hibernation."

Evidently, one of the creators was a big fan of metal.