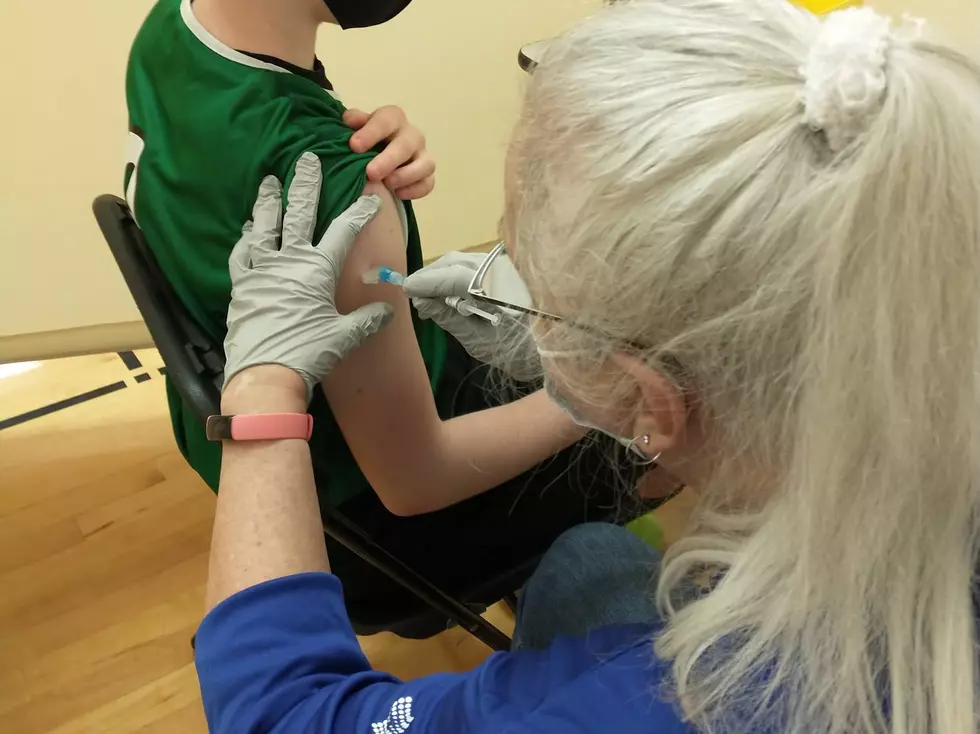 Spectrum Health Expanding Covid-19 Vaccine To West Michigan Clinics for Kids & Adults
Nurse gives a child the Covid-19 Vaccine at a Spectrum Clinic | 📷 Ken Evans
As the West Michigan Vaccine Clinic in downtown Grand Rapids winds down, Spectrum Health is expanding its vaccine clinics across West Michigan.
After more than 500 newly eligible 12 to 15-year-olds were vaccinated at the health system's Saturday clinic on 60th St., officials are hoping that more parents will continue to get them vaccinated.
In a media release Spectrum says:
Spectrum Health continues to offer COVID-19 vaccines at several locations this week for both adults and children, and is particularly eager to administer the Pfizer COVID-19 vaccine to the newly eligible group: 12-to-15-year-olds. Parents or guardians are encouraged to bring their children to one of the upcoming clinics offering first doses of the Pfizer vaccine. Anyone aged 12 or older is welcome. Those under the age of 18 must be accompanied by a parent or guardian. Schedule your vaccination by calling 833.755.0696. Call Center hours are 8 a.m. – 8 p.m., seven days a week. Patients 18 and older can also schedule through their Spectrum Health MyChart account.
Many Spectrum Health primary care offices and regional locations are also now providing vaccinations and offering both Johnson & Johnson and Pfizer.
Here are the upcoming clinics offering the Pfizer vaccine:
Spectrum Health 60th Street Vaccine Clinic, 4700 60th St. SE, Kentwood
4 p.m. – 8 p.m., Tuesday, May 18 (First dose)
By appointment only
Spectrum Health COVID-19 drive-thru testing site, 1300 Michigan St. NE, GR
8:30 a.m. – 4:30 p.m., Monday, May 17 – Thursday, May 20 (First dose)
8:30 a.m. – 4:30 p.m., Wednesday, May 19 and Thursday, May 20 (Second dose)
By appointment only 
West Michigan Vaccine Clinic, DeVos Place
Noon – 4 p.m., Tuesday, May 18 (Second dose)
By appointment only
Spectrum Health United Lifestyles, 701 S. Greenville W. Dr., Greenville
3:30 – 7 p.m. Monday, May 17
By appointment only
Spectrum Health Big Rapids Hospital, 605 Oak St., Big Rapids
3 – 7 p.m. Tuesday, May 18
By appointment only
Spectrum Health Pennock Hospital, 1009 W. Green St., Hastings
8 a.m. – 4 p.m. Thursday, May 20
By appointment only
Spectrum Health Zeeland Hospital, 8333 Felch St., Zeeland
1 – 7 p.m. Thursday, May 20
By appointment only
Spectrum Health Ludington Hospital, 1 N. Atkinson Dr., Ludington
3 - 8 p.m. Thursday, May 20
By appointment only
Spectrum Health Gerber Hospital, 230 W. Oak St., Fremont
6 – 10 p.m. Thursday, May 20
By appointment only
5 Things I Can't Wait to Do in West MI After COVID-19