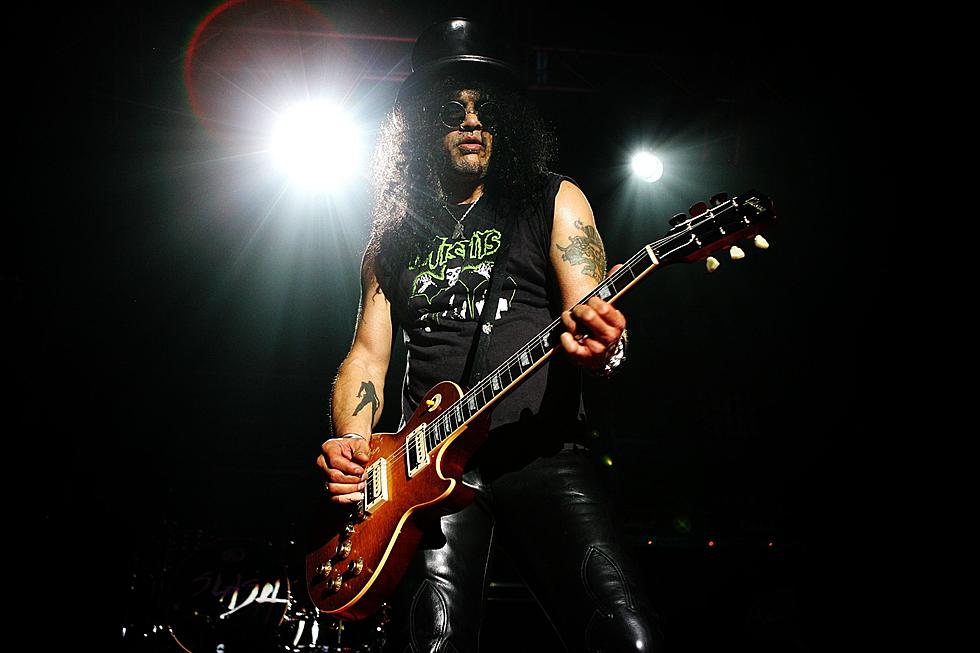 Why Slash Hated the Los Angeles Music Scene in the '80s
Scott Barbour, Getty Images
Slash says he was raised in the Los Angeles music scene, which was great - until the '80s hit. In a new interview, the guitarist admits he wasn't exactly a fan of the scene in his home base at the time of the band's arrival.
Slash has lived in Los Angeles since he was about 5-years-old. In an interview with Classic Rock, the guitarist said he had wonderful memories from when he was 7- to 12-years-old adding, "I was kind of raised in the L.A. music scene, and it was great. I watched it go through these music trends in my short little lifetime up to that point. But what it turned into in the '80s was something unrecognizable from an integrity point of view and a creative point of view."
The guitarist adds that when it comes to the music scene in Los Angeles in the '80s, he "fucking hated the whole scene." He thought bands from the U.K. had some credibility, but in Los Angeles, it was "just bullshit. And Guns N' Roses were coming up in the midst of that."
So what does he look back so unfavorably on that period? It all boils down to what Slash thinks motivated the bands. "Everybody was fucking converting to the industry standard to get a record deal and get girls," the guitarist recalls. He adds that he was proud that GNR was "the antithesis of all of that."
The guitarist thinks that L.A.'s music scene has since been diluted and "there was a huge scene going on in the '60s and right through the '70s" and "at least it was exciting in the 80s, at least there was a scene."
While the other '80s bands were selling out, Guns N' Roses wouldn't dream of such a thing. Slash says GNR had a "camaraderie, and this passion for the kind of music that we did, and also this attitude of fuck everything else that's going on and all the obstacles and all the bullshit in the music business in LA at that time."
Slash is currently touring with Myles Kennedy and the Conspirators and will hit the road with Guns N' Roses in May.
8 Things We Learned From Slash's Recent Fan Q+A
The guitarist spent some time answering questions on Reddit.