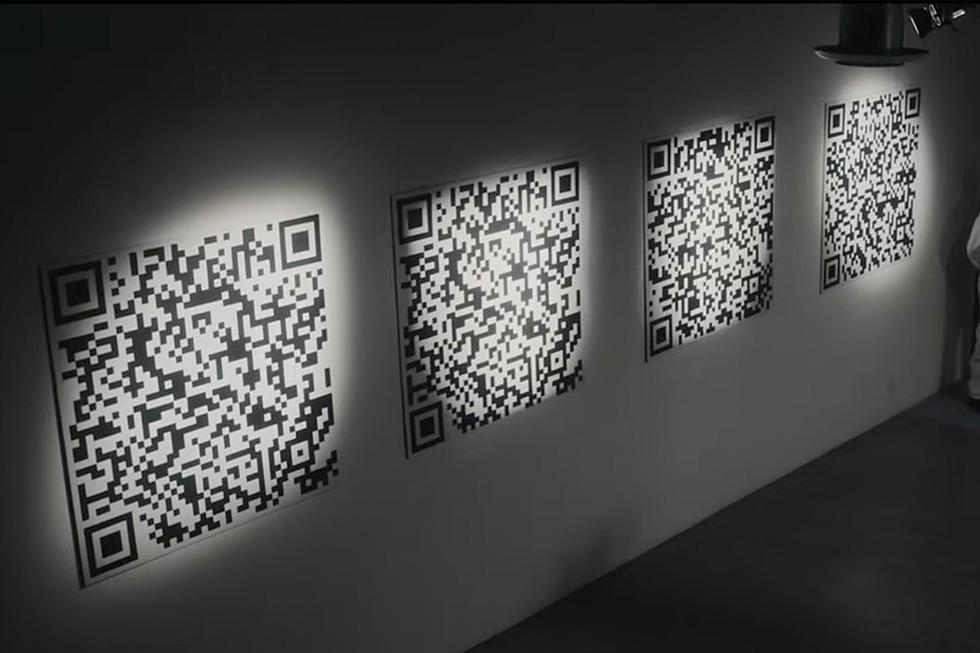 Rise Against Urge Fans to Seek Humanity Amidst Interactive 'Talking to Ourselves' Video
YouTube: RiseAgainst
And now for something a little different. Rise Against have just revealed their brand new video for "Talking to Ourselves," but for those who enjoy those little extras that easter eggs can bring, it's worth it to pay close attention to the artwork displayed within the clip. That's because it provides an interactive experience with fans closer tied to the overall message of the song.
Within the clip, the patrons at an art gallery all tend to be milling about more glued to their phones than to the pieces on the wall, which in fact could hold a greater interest if they would just pay attention. As you can see from the featured still above and in the video below, the art pieces are QR codes that when scanned will lead viewers of the video to a cryptic website, unlocking a little bit more mystery surrounding the song over the coming weeks.
Director Ryan Valdez explains, "The intention behind the video was to yet again shed light on us as a society and to expand on the feeling that we have progressively lost our humanity. In our video, the QR codes represent little windows to the world outside of our bubbles, only to be dismissed and swiped onto the next event."
"It feels so bleak," he continues. "Heartbreaking headlines are so disposable and just another hashtag buried in the news of celebrity gossip and trending dances. As we watch and Tim [McIlrath] sings 'Are we talking to ourselves,' I hope it reminds us to be human, listen, speak up and do better."
"Talking to Ourselves" has had an evolving journey for the band, first appearing on their 2021 Nowhere Generation album, then receiving placement on the live Nowhere Sessions set and also receiving a remix by IDLES earlier this year. The song has enjoyed Top 25 airplay at both Alternative and Mainstream Rock radio.
You can interact with Rise Against even further by catching the band live in concert. Their current tour leg runs through April 22 and you can see the tour dates at this location.
But now it's time to dig beyond the surface. Scan those QR codes and see where the journey takes you.
Rise Against, "Talking to Ourselves"
The 45 Best Rock + Metal Albums of 2021
These are the 2021 albums we couldn't stop listening to.