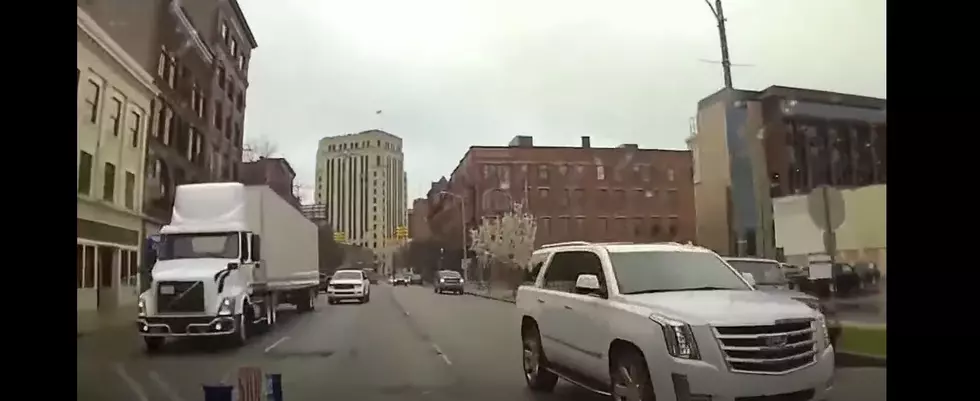 Video of this Wrong-Way Police Chase in Downtown Kalamazoo Will Give You Super Anxiety
MLive/YouTube
If you know nothing else about downtown Kalamazoo, you likely know of its matching pair of one-way streets, Michigan and Kalamazoo Avenues.
This State Police pursuit video will give you a perspective you never get to experience, a high-speed chase against traffic and it is anxiety riddled just to watch.
MLive/Kalamazoo Gazette has published the video on their YouTube channel and shares the story on their site.
Knowing the area, you'll likely be able to pick up the locations that were part of the chase.
The video begins at the Marathon Station along Sprinkle Road south of the Business Spur. The driver bumpercars his way out of the lot and up Sprinkle.
The chase heads into the residential streets of the Eastwood neighborhood entering the Kalamazoo city limits at Charles Street.
There's a cut before entering downtown, but you'd have to think the case came down Riverview. The jarring downtown wrong-way chase begins at 1:09 in the video with the police radio reporting "he's heading into incoming traffic now." The wrong-way chase starts on Michigan Avenue near Hopcat. Then around the blind curve in the Haymarket as cars scurry to get out of the way.
The chase briefly leaves downtown heading down Stadium Drive then sharply turns back downtown on Academy Street. Then more wrong-way driving going north on the one-way-south Westnedge Ave.
MLive reports the chase ended when
The vehicle collided with another vehicle at West Michigan Avenue and North Park Street in downtown Kalamazoo. It then crashed into a brick wall and light pole outside of the parking lot at First Congregational Church.
Harrowing moments to be sure and skillful driving of the Michigan State Trooper was on full display.
Take a much more leisurely and less stressful drive for these must-see attractions:
LOOK: Route 66's quirkiest and most wonderful attractions state by state
Stacker
compiled a list of 50 attractions--state by state--to see along the drive, drawing on information from historic sites, news stories,
Roadside America
, and the National Park Service. Keep reading to discover where travelers can get their kicks on Route 66.
Do More Virtual Driving
These are the must-drive roads in every state:
See the Must-Drive Roads in Every State