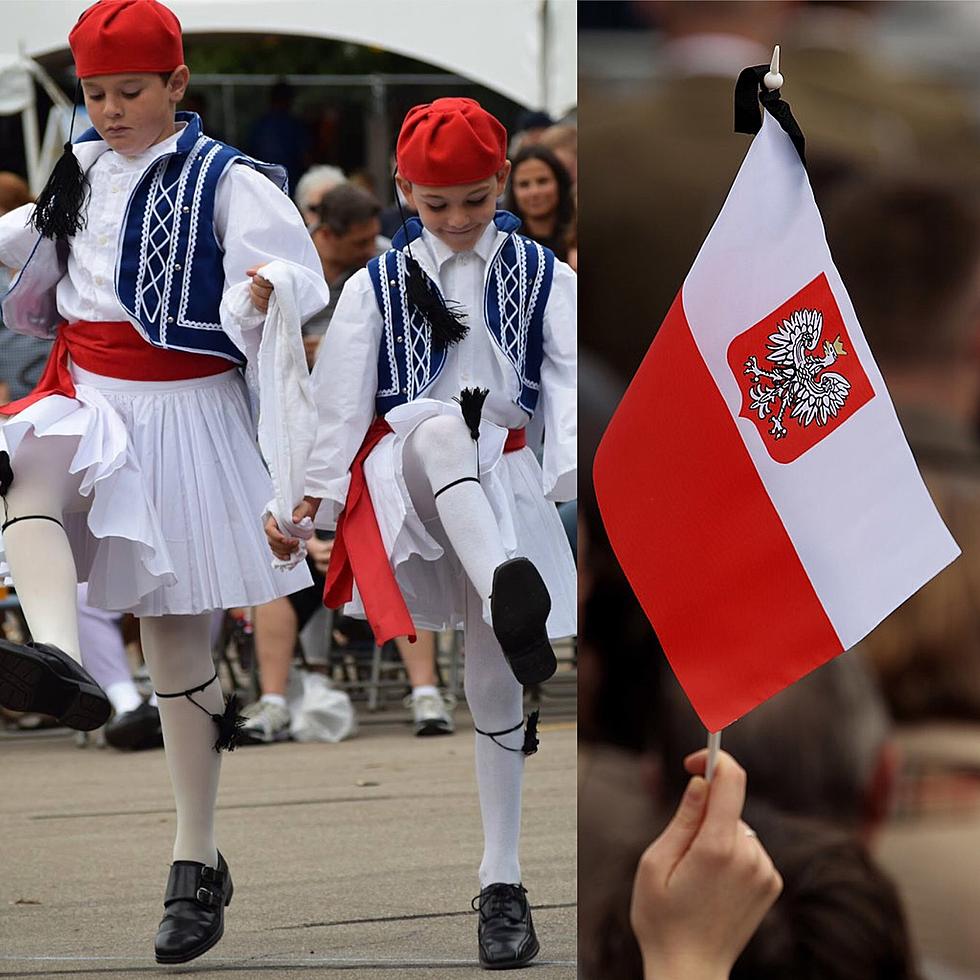 Opa! The Greek & Polish Festivals Return to Grand Rapids this Weekend
Yassou Fest via Facebook / Sean Gallup via Getty Images
Looking for something to do this weekend? Forget about cooking and let your mind and stomach take in a little culture.
The Greek Festival and Polish Festival are both back for three days starting Friday.
The Grand Rapids Greek Cultural Festival will be held on the grounds of the Holy Trinity Greek Orthodox Church (330 Lakeside Dr. NE). Throughout the event, you'll see traditional Greek music and dancing that you can partake in, homemade fresh Greek food (yum), and beer and wine exclusively from either Greece or Michigan.
If you're a huge foodie like myself then you're probably wondering what's on the menu. Yes, that does include some of your favorites like gyros and a pork on a stick served fresh in a warm pita (Souvlaki on a Pita). Yup, salivating already. Also, a Greek cooking class will be held both Friday (4p.m.) and Saturday (1p.m.). On Sunday the festival will be open for take-out food only. Here's a schedule of events.
Holy Trinity says the first report of Greeks in Grand Rapids was around 1913.
Over at Calder Plaza in Downtown G.R., the Polish Festival will be taking place. Did you know it's the longest-running ethnic festival in the city?
Over the three days a ton of stuff is planned for guests such as live music from a polka band, kids activities, sword demonstrations, and a paczki eating contest on Friday and Saturday. If you go, or have gone, to Pulaski Days you'll see a lot of the same food because you can't have a Polish festival without kielbasas and pierogis. Per usual, there will be booths donning Polish gear and items that you can purchase. In addition, the Pulaski Queen Competition will be held on Saturday.
Here's an interesting history of the Polish and Lithuanian community in Grand Rapids, whom the majority immigrated here in the late 19th century to early 20th. The first settlers came in the 1870's.
It's good to see these popular events back after last year. Unfortunately, the Festival of the Arts just announced they would be cancelling this September's event for the second year in a row due to COVID concerns. This was supposed to be "part two" of the festival to coincide with the first week of ArtPrize. It was supposed to include live music, art, and a Jazz brunch.
ArtPrize is still a go for September 16 - October 3.
DELICIOSO: Foods You Need to Eat at the Grand Rapids Hispanic Festival