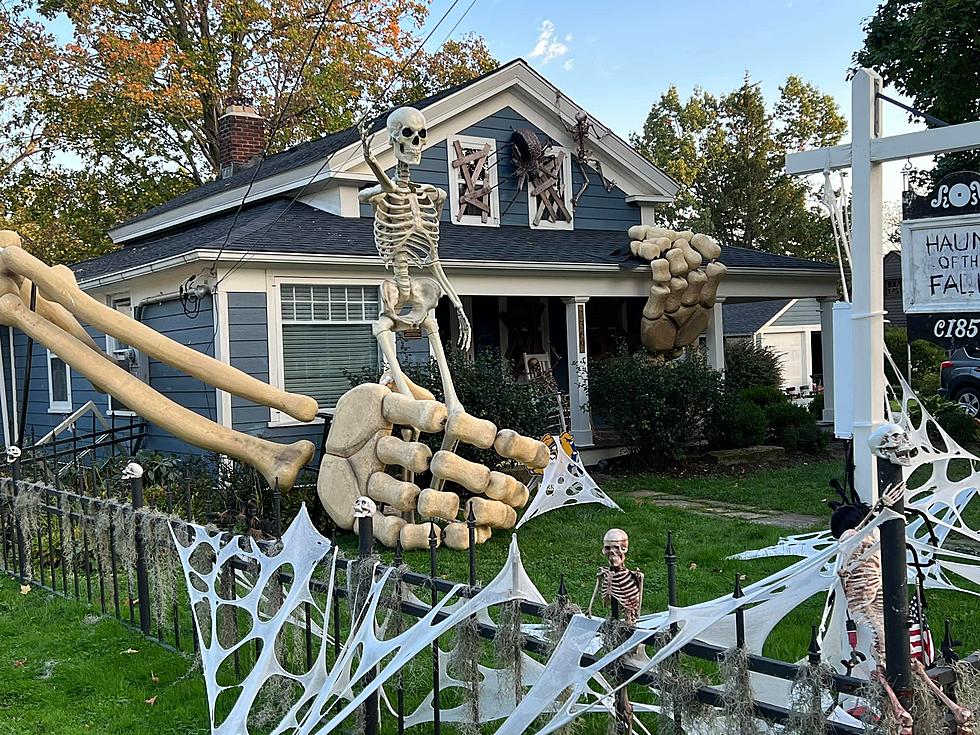 Ohio Man's Massive Halloween Display Crushes Your Puny 12-Foot-Tall Skeleton
Alan Perkins, Facebook
Last year's viral Halloween decoration doesn't have anything on this Ohio resident's spooky display...
Remember how everyone had to have the 12-foot-tall skeleton from Home Depot for 2020's Halloween season? I've even heard that folks are still having a hard time finding it in stock this year.
Well, Alan Perkins of Olmsted Falls, Ohio, managed to find one. He actually borrowed it from his neighbor, so that his gigantic creation could clutch it in its massive bony hand, putting the minuscule 12-foot skeleton to shame.
Perkins shared his Halloween spectacle, featuring a bigger and badder skeleton bursting forth from his home, to a local Halloween hobbyist Facebook group,
So people keep asking for updates. I got the arms and hands mounted today. A neighbor of mine let me borrow his 12 foot skeleton to capture. Still need to make the skull breaking through the roof. Getting closer though. I also posted a picture of my window covers and the connection pieces for the knuckles that allow the fingers to move. Located on River Road in Olmsted Falls.
So it's not even finished and it already looks this cool! Perkins says he still is going to add a skull breaking though the roof.
According to Mashable, Perkins has been building the display, which is made out of foam and PVC armature for support, for about a month.
Perkins tells Mashable,
I cut into the foam, glued the PVC in with spray foam, and shaped the pieces. The outside is coated in glue and sand to hard coat it a bit for abrasion when putting it up and it is water proofed with some clear exterior sealer.
He originally purchased the foam off of Craigslist five years ago and got the idea for the display three years ago.
A few years ago, I saw a tree poking through a roof like they bought a Christmas tree that was too big. I thought it was fun and wanted to make a Halloween twist on it. I thought, wouldn't it be neat if it looked like a skeleton was breaking out of my home? And that started the wheels turning.
Perkins' kids, who are six and eight are in on the fun too. He says they help with glueing and carrying the parts of the huge skeleton.
This is not Perkins first foray into holiday decorating. According to Mashable, he's also put up some pretty impressive Christmas displays and has decorated a nearby bridge for Halloween.
Still though, Perkins says he never has a ton of trick-or-treaters, due to his location on a side street that doesn't get much foot traffic... Given how viral his Halloween display seems to be going (his original post has more than 50K shares after just a few days) I think that *might* change this year.
Check out more photos of Perkins' display and his process below!
Ohio Man's Impressive Halloween Display Makes Viral 12-Foot Skeleton Look TINY
50 Haunted Michigan Locations
Below is just the tip of the iceberg—a list of fifty Michigan hauntings that have been "reported" in cemeteries, houses, woods, jails, businesses, neighborhoods...if you can name it, there's probably a haunting for it.
Take a look at the list of fifty Michigan hauntings below and come to your own conclusions.
10 Spooky Movies With Michigan Ties
MORE: Take a Look at Kalamazoo's (Reportedly Haunted) State Theatre
UP NEXT: Your Own Personal Haunted Michigan Lighthouse Tour Roadtrip