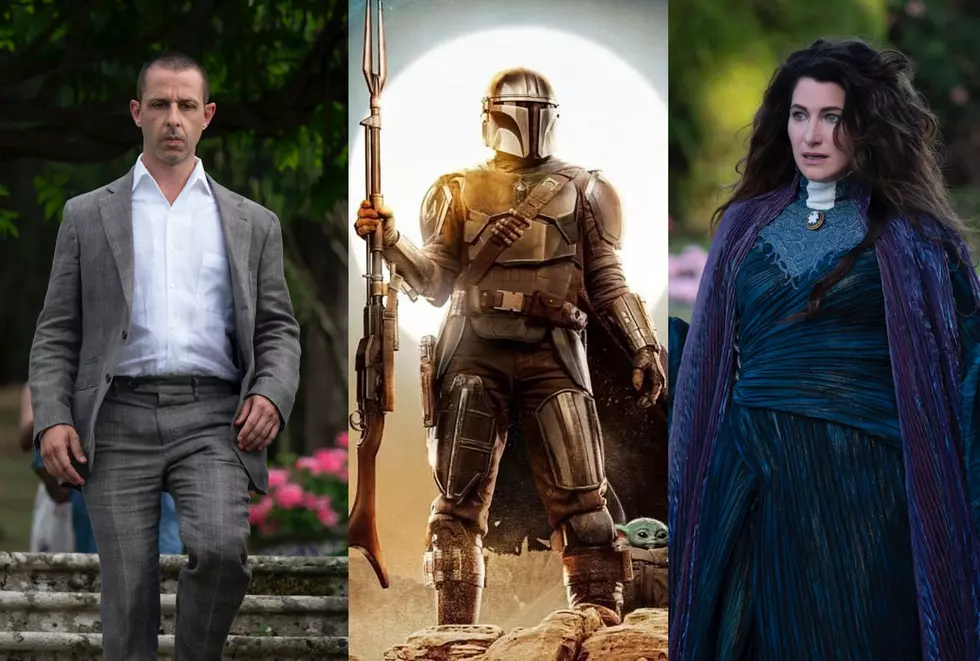 The Most Anticipated TV Shows Of 2023
HBO/Disney+
It's funny to think how television has become like film. Our television setups have essentially become an extension of the moviegoing experience — TV is no longer the unintelligible white noise in the backgrounds of our homes. Now, in the same way we count down the weeks to a major motion picture release, we get the same buzz of anticipation when talking about what's new on TV. Each year, there's a seemingly neverending string of must-watch television series — 2022 alone had some phenomenal shows. As the year comes to an end, we're already gearing up for what 2023 has to offer — there's a lot to be excited about.
The shows below fall into a few different categories. First, there are the ongoing series that were unsurprisingly renewed for another season, such as Showtime's captivating survivalist mystery drama Yellowjackets and HBO's lauded family saga Succession. There are also shows that are entries in a larger cinematic universe tied to a major franchise. We're also seeing a few shows rise from the grave in 2023, such as the short-lived workplace comedy Party Down. Perhaps the rarest show to find these days is one that isn't based on some existing IP, but rest assured, they still exist.
Before you cancel any of those streaming service subscriptions in the new year, make sure you're not about to miss one of these series coming next year. Which one are you looking forward to watching the most?
1

Yellowjackets Season 2 (Showtime)

Showtime's buzzy survivalist drama Yellowjackets received a lot of attention when it debuted at the tail end of 2021. Between its clever casting of '90s It Girls Christina Ricci and Juliette Lewis as the present-day survivors of a traumatic plane crash to its exceptional use of period-appropriate music, Yellowjackets is as much a time capsule of a bygone era as it is gripping television. Season 1's plot — though weighed down by the occasional red herring — was filled with plenty of sharp twists, while still leaving plenty of fodder for an absolutely roaring Season 2. Yellowjackets returns on March 26, 2023.

2

Agatha: Coven of Chaos (Disney+)

If Marvel's breathtaking TV series WandaVision taught us anything, it was that it really was Agatha all along. Agatha Harkness, played by a deliciously devilish Kathryn Hahn, was an absolute scene-stealer, so was anyone surprised that she scored her own spinoff? As is typical with Marvel projects, the plot of Agatha: Coven of Chaos has been kept pretty tightly under wraps. However, we do know that the show will explore Agatha's ties to the Salem witch trials, as well as how she got her dark powers in the first place. All will be revealed when Agatha: Coven of Chaos comes out in Winter of 2023.

3

After spending the last few years living in — to put it delicately — a virus-ridden hellscape, we're all anxiously awaiting The Last of Us to arrive on HBO Max, which takes place in what's more or less a virus-ridden hellscape. Adapted from the smash hit videogame of the same name, The Last of Us will star Pedro Pascal as hardened survivor Joel and Bella Ramsey as Ellie, the 14-year-old he's tasked with smuggling across a post-apocalyptic country. Ellie is immune to the brain-infecting fungus that has decimated the rest of civilization, and she may be the key to a vaccine. This will be the first HBO series to be based on a video game, and fans are eagerly looking forward to how the series will make use of its rich source material. Luckily, they won't have to wait long — The Last Of Us premieres on January 15. 

4

Succession Season 4 (HBO)

Acclaimed for its exceptional writing, strong performances, and top-notch production value, Succession seems to dominate the television conversation whenever it's on air. With multiple Emmys and Golden Globes under its belt, Succession is poised to return next year on HBO. We can expect plenty more high-stakes drama within the Roy family, following the bombshell of Season 3's finale episode. While there's no official release day yet, we can expect the next season of Succession to arrive in Spring of 2023.

5

The Mandalorian Season 3 (Disney+)

Now that Andor and Obi-Wan Kenobi have landed on Disney+, it seems that the collective Star Wars audience has put The Mandalorian on the backburner. Even worse, it seems as if Andor's success is causing some fans to reevaluate their initial love for The Mandalorian. The days of Baby Yoda worship are now starting to feel hazy, but that's all about to change — because The Mandalorian is coming back for Season 3. With its first two seasons, Jon Favreau's space western has solidified itself in the Star Wars canon. Now, we're excited to see what stretches of the galaxy it can take us to next.

6

Taking place during the summer of 1995, That '90s Show is a spinoff continuation of the Fox sitcom That '70s Show. It centers on Leia Forman (Callie Haverda), the teenage daughter of Eric Forman (Topher Grace) and Donna Pinciotti (Laura Prepon). Original stars Prepon, Grace, Mila Kunis, and Ashton Kutcher are slated to make guest appearances, but the main events of the show will focus on a brand new set of characters. Nostalgia for the '90s feels like it's at an all-time high, so it's not surprising that Netflix jumped at the opportunity to bring the beloved sitcom into a new era. That '90s Show will premiere on Netflix on January 19.

7

Party Down Season 3 (Starz)

Before Adam Scott returns in Apple TV+'s exceptional sci-fi thriller series Severance, we'll get to see him slog through a different job — his long-standing catering gig on the six-episode third season of Party Down. The cult-favorite Starz comedy series was originally canceled in 2010 due to low ratings, but fans will get one more chance to catch up with the colorful ensemble cast, including Scott, Jane Lynch, Ken Marino, Martin Starr, Ryan Hansen and Megan Mullally. After nearly 13 years of being off the air, the third season of Party Down arrives on February 24. 

8

Daisy Jones & The Six (Amazon Prime Video)

Based on Taylor Jenkins Reid's book of the same name, Daisy Jones & The Six follows an on-the-rise musical group during the height of the 1970s. While the Amazon Prime Video miniseries will be presented in a documentary style, the band itself is entirely fictional — however, it's hard not to draw similarities to one authentic band of the era, Fleetwood Mac. Riley Keough, granddaughter of the King of Rock and Roll himself, will star as Daisy Jones. The series is currently set to premiere on Amazon Prime Video on March 3.

9

At long last, a new television series that isn't based on a book, movie, or previous TV show. Rian Johnson's upcoming Poker Face will be a case-of-the-week mystery series, using the "howcatchem" format popularized by Columbo. Natasha Lyonne serves as both star and executive producer, and as we've learned from Russian Doll, she's more than capable of carrying a show's premise on her shoulders. Not to mention, Johnson's two Knives Out installments have proven his adroitness within the mystery genre — in other words, we're in really good hands. Also expect appearances from Joseph Gordon-Levitt, Stephanie Hsu, and Adrien Brody. Poker Face's 10-episode season will debut on Peacock on January 26.

10

Netflix's first release of 2023 will be a heist drama, but not just any heist drama — the eight episodes are designed to be watched in any order. That means the order of the episodes presented to you by your account's algorithm will be different from that of your friends' algorithms, giving you an entirely different viewing experience. Each episode sits at a different spot on the timeline of the crime, whether that be 24 years before or six months after the heist takes place. Cool, right? All eight installments are available now, so we don't have to wait long at all to dive in.