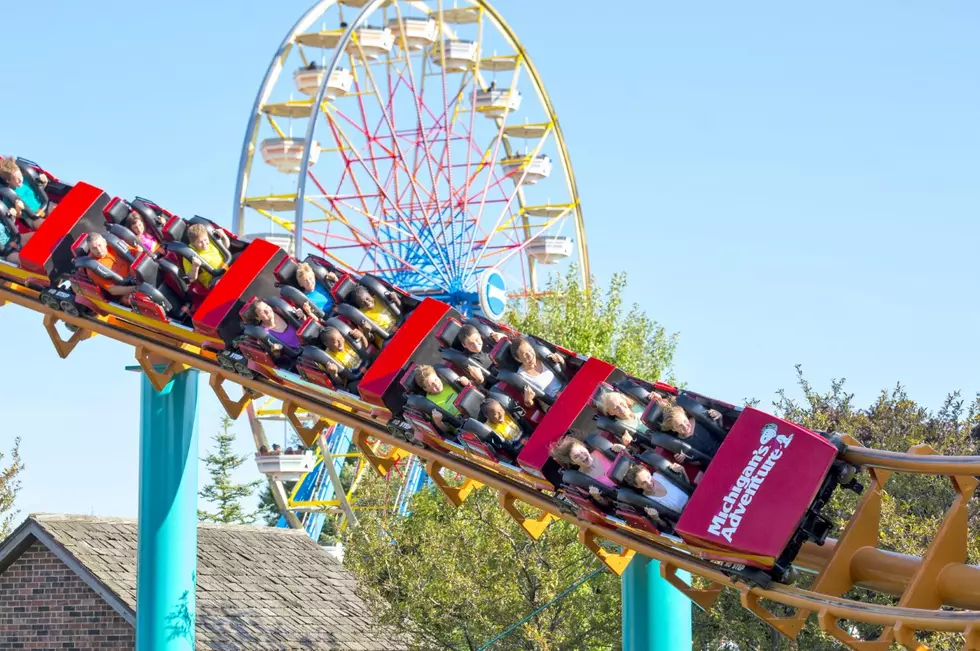 Can't Wait for Michigan's Adventure to Open? It's This Weekend!
Michigan's Adventure
It's finally happening this weekend, Memorial Day weekend. Michigan's Adventure Amusement Park and WildWater Adventure Waterpark are opening!
MICHIGAN'S ADVENTURE AMUSEMENT PARK
It's Michigan's largest amusement park and water park, filling 250 acres with over 60 rides, slides and attractions, including seven roller coasters, which of course features Shivering Timbers and Thunderhawk.
MICHIGAN'S ADVENTURE - SHIVERING TIMBERS ROLLER COASTER
Owned by Cedar Fair, part of the Cedar Point group, Michigan's Adventure keeps growing, adding new rides and adventures.
MICHIGAN'S ADVENTURE CAMP SNOOPY
Camp Snoopy opened last year with Charlie Brown and Snoopy for the little ones, and I'll bet big ones, too.
MICHIGAN'S ADVENTURE WildWater ADVENTURE
It's always great to hang out at the Water park, WildWater Adventure, especially when it's hot, and I'm sure this summer will be hot. People come from all over Michigan and the Midwest to enjoy "wet!"
WILD WATER TUBING - MICHIGAN'S ADVENTURE
It's a great place with towering slides, and relaxing and refreshing pools. And and the "cool" thing is that it's all included with your ticket or Season Pass. If you're in to it, you can't pass up the Funnel of Fear, three wave pools, body slides, speed slides and more.
MICHIGAN'S ADVENTURE HALF PINT PARADISE
Of course, you have small children with you and they have that taken care of too with the Half Pint Paradise and Beach Party.
One of the big changes this year at Michigan's Adventure is that they are  switching to a cashless system throughout the park. Instead of cash. What that means is that everyone must use debit cards, credit cards, or digital wallets like Apple Pay and Google Pay for any park payments. Now, if you don't have a payment card or digital wallet, no problem.
MICHIGAN'S ADVENTURE CASHLESS KIOSK
Convert cash to a prepaid debit card at Cash-to-Card Kiosks in the park. Prepaid debit cards from the kiosk require a $5 minimum deposit, and you can add up to $500 on a card. There is one hook, however. If you choose this option, you could end up paying fees if you don't use the card regularly. After 92 days of inactivity, you'll get charged a $3.95 inactivity fee each month.
MICHIGAN'S ADVENTURE
I know you can't wait. All the fun begins this Memorial Day Weekend at Michigan's Adventure! The park is located at 4750 Whitehall Road, Muskegon, MI 49445
MORE: Take a Look at These Abandoned Amusement Park Rides