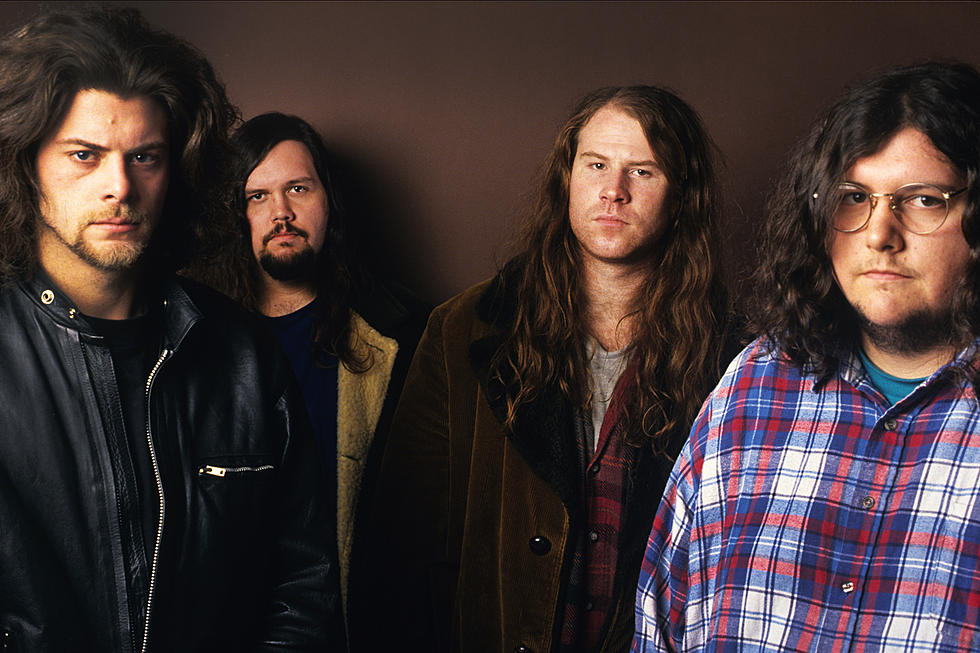 Screaming Trees Drummer Regrets Throwing Beer Can at Mark Lanegan
Gie Knaeps, Getty Images
Former Screaming Trees drummer Barrett Martin (pictured above at left) recently paid tribute to his late bandmate Mark Lanegan with a story about how the rock group used to throw beer cans at each other.
He once tossed one at Lanegan he wishes he hadn't.
Lanegan (pictured above, second from right) was the ex-Screaming Trees vocalist and solo artist who was also a former Queens of the Stone Age member. He died at 57 on Feb. 22. In his memoir Sing Backwards and Weep, he also discussed the beer can throwing.
On Tuesday (March 1), in what Martin said was the first in a series of personal Lanegan remembrances he began sharing that day, the drummer and onetime Skin Yard member recalled how his can toss at Lanegan came back to him full-circle. (Read the whole story near the bottom of this post.)
Martin writes, "For some reason, the Screaming Trees had a propensity for throwing cans and even bottles of beer at each other, and Mark told the story in Sing Backwards and Weep of how I threw a can of beer at him in his New York City hotel room. This is true, and I wish I hadn't done it, but I did."
He adds, "More revealing about that event is the reason for my beer can chucking in the first place. It all came back in 2019, when Mark called to ask if I remembered certain stories differently from the way he remembered them. We had a really great phone conversation where I told him the things I could recall, and I'd say that his book is pretty darn accurate from everything I remember from those wild years. Anyway, Mark reminded me that it was I who threw that first beer."
As the tale continues, readers learn Martin got his comeuppance when Screaming Trees guitarist Gary Lee Conner almost injured the drummer with a can. It started a backstage fight that saw Conner brawl with his brother, Trees bassist Van Conner. It ended with the two accidentally toppling a vintage refrigerator on top of Martin, per his story.
In 2021, Lanegan was hospitalized with COVID-19 and slipped in and out of a coma with "little hope of survival," according to his final book, Devil in a Coma, published last December. The Screaming Trees vocalist also went deaf during his illness, but he appeared to be getting better by year's end. At that point, a spokesperson said the musician had "gotten his hearing back now, but his health is up and down."
Then last month, a representative revealed Lanegan "passed away this morning at his home. … A beloved singer, songwriter, author and musician, he was 57 and is survived by his wife, Shelley. No other information is available at this time."
Lanegan led Screaming Trees from their 1984 start until their 2000 split, recording albums including Sweet Oblivion (1992) and Dust (1996) with them in that time. He then worked with Queens of the Stone Age, contributing lead and backing vocals to select songs on their albums from 2000 to 2013. He was an official member for several years. Lanegan also recorded with Isobel Campbell, Duke Garwood and others.
Lanegan's Sing Backwards and Weep emerged in 2020, the same year as his last solo album, Straight Songs of Sorrow. They followed his 2017 lyric book I Am the Wolf.
Rockers We've Lost in 2022
Rock + Metal Musicians Who Died in 2022
Rockers We Lost in 2021
R.I.P. to the rockers who died in 2021.