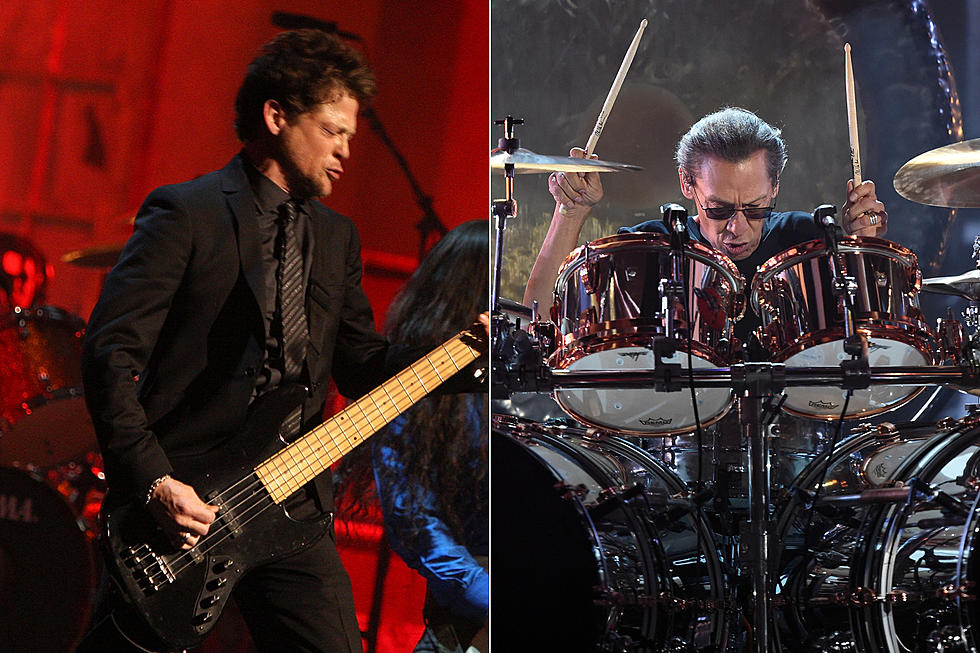 Jason Newsted Claims Alex Van Halen Contacted Him About Potential Tour
Stephen Lovekin / Ethan Miller, Getty Images
In the aftermath of Eddie Van Halen's death, drummer Alex Van Halen has remained relatively quiet about his next musical move. But according to Jason Newsted, that move almost included a tour with himself and Joe Satriani.
While speaking with the Palm Beach Post, the former Metallica and current Chophouse Band bassist revealed he had been contacted by the drummer about the idea of potentially doing a Van Halen tour six months ago.
According to Newsted, Van Halen had Satriani selected to play guitar and he had contacted him to see about handling bass duties. Newsted said he agreed to travel to California to jam with them and see how it felt, but ultimately he knew it would be impossible to do justice to the band's legacy.
"How could you [do it justice]?" posited the bassist. "There's nobody that can top it, so how do you show it honor? I didn't want it to be viewed as a money grab. And then it kind of just all fizzled."
These days, Newsted continues to play with the Chophouse Band, but admits that "the call" still drives him musically and that he always wants to be prepared in case something piques his interest. "I don't want to be caught not being able to perform like I know I can," he said. "If it does happen to come … I don't want to let my guard down."
Within the interview, he adds that "the call" would have to come from someone pretty special, with names like ZZ Top, Gary Clark Jr., Joe Bonamassa being tossed out. He added that he was quite excited to guest alongside Tina Turner on Italian pop singer Elisa's song "Teach Me Again."
When asked in the interview if he would go back if "the call" came from Metallica, he offered, "Absolutely man. I was all the way committed to that. I could not have been more devoted to that band. It's not possible." He explained that while he never wanted to quite Metallica, it is not a decision he regrets though, feeling that a change needed to happen at the time.
That said, in a 2021 interview, Newsted discussed that he would not have the "physicality" to play in bands such as Metallica and Voivod in the manner that he once did and the way that he would want to play. "I only do six shows a year [with the Chophouse band], and I do them right," he stated at the time.
He would later clarify the comments that came from that interview, stating, "I want everybody to realize that whoever asked me to come and play bass, and if it was for real, then I would be there to play bass. And if it was Metallica that asked me to play for that many songs or that fast or that slow or whatever, then I would go and do it. There's not a thing where I can't do that. I was saying that I'm probably not going to go on tour and do two-and-a-half hours every night with a band anymore. That's not something I'm probably going to do. It's not that I can't do it."
Metallica: A Photo Timeline of Their Remarkable Career