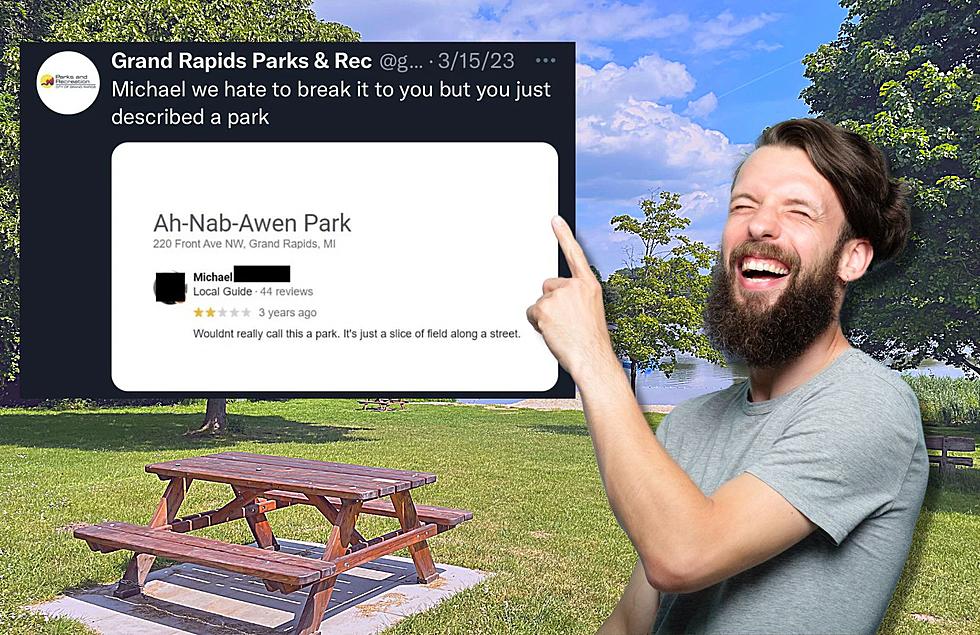 Grand Rapids Park & Rec Twitter Page Is Hilariously Elite!
Canva
I was on the Grand Rapids Reddit when I came across a post that mentioned the person's love for Grand Rapids Parks & Rec's social media page.
If you know anything about how organizations run their social media pages now, it is truly a hilarious sight to see.
For example, the Twitter battle between all of the fast food chains, specifically Wendy's clap back.
Oh, what a time to be on Twitter! (before Elon Musk got a hold of it)
Pssst...if anyone knows who runs Wendy's Twitter account, tell them we need the drama again! Elon's got a hold of Twitter and it's not looking pretty. I need joy on my timeline.
However, I get a little glimpse of joy every time Grand Rapids Parks & Rec's tweets.
Now, I get to share a little joy with you. If you do not follow them yet, you will after this.
The first tweet that sent me a hysterical laugh was the fact that Grand Rapids Parks & Rec had to define a park because of a bad review.
Well, at least we know what a 'park' is now. In the reviewer's defense, Ah-Nah-Awen Park is just a strip of grass.
Long story short...don't feed the dang one ducks! Remember when the Silicon Valley bank failed recently... Well, Grand Rapids Parks & Rec made sure you knew that there was one bank that wasn't failing anytime soon!
The bank next to the river edge walk at Fish Ladder Park.
Well, according to GR Parks & Rec, he is a movie star now!   Don't let the snow and ice get you down.
You can slide into someone's DMs much better this way.
Whoever runs this account deserves free hugs and a raise!
7 Must-See Spring Destinations in Michigan
It's been a long winter in Michigan. Now that we're thawing out, here are the best places to visit in Michigan during springtime.