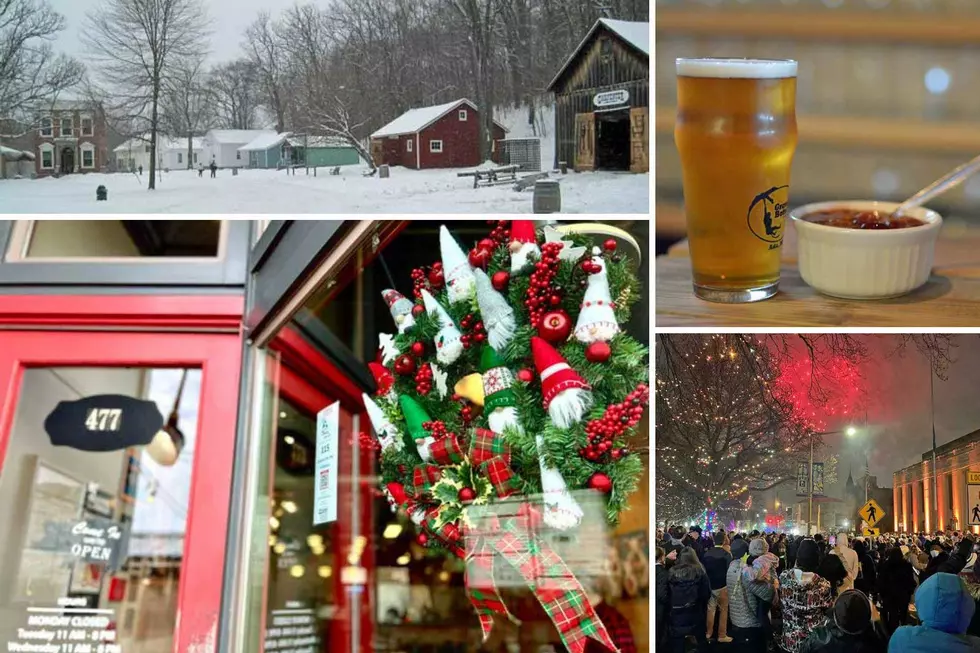 Plan Ahead: West Michigan Fairs and Festivals in December
Photos: Facebook
Most of the fairs and festivals in the month of December are all centered around the holidays. There is one exception -- the Ada Chili and Beer Fest! Get out and have some fun this month.
Tuesday, November 22-Sunday, December 11, 2022 - Downtown Muskegon, MI
The Muskegon Museum of Art is collaborating with nearly 50 downtown Muskegon businesses and organizations for the annual holiday Festival of Wreaths. This event was formerly known as the Festival of Trees. The Festival of Wreaths encourages people to walk and explore the downtown Muskegon area for the holidays. Participating downtown businesses and organizations will host a designer wreath provided by the MMA in a window facing the street or sidewalk. The wreaths can be bid upon through an online auction. Additional information can be found on the Festival of Wreaths Facebook Events page.
---
Saturday, November 19-Friday, December 23, 2022 - Potter Park Zoo, 1301 S. Pennsylvania Ave., Lansing, MI
Thousands of lights create an extraordinary holiday display at the 30th annual Wonderland of Lights! As you take a stroll around the zoo, you can enjoy holiday music, and marvel at the twinkling light displays during this series of magical Michigan winter evenings. If you get hungry, stop by the Savanna Grill for something to eat. There will be goodie bags for the children as you leave. Additional details can be found on the Potter Park Zoo Facebook page.
---
Wednesday, November 23-Saturday, December 31, 2022 - LMCU Ballpark, Comstock Park MI
This is West Michigan's largest, animated drive through light display. This year marks the 25th year of entertaining people of all ages. There will be nearly two miles of Christmas magic with over a million lights, animated displays, lighted tunnels, and more. For more information, visit the Christmas Lite Show Facebook page.
---
Friday, November 25, 2022-January 1, 2023 - Croton Township Campground, Newaygo, MI
The Colors of Christmas is full of lights and displays that you can drive through or hike through! It opens the day after Thanksgiving and is open every day until January 1st. It is a free event, however donations are appreciated. More information is on the Colors of Christmas Wonderland Facebook page.
---
Saturday, December 3, 2022 - The Community Church in Ada, 7239 Thornapple River Dr., SE, Ada, MI
It is being called the Largest Chili/Beer Event in the Country! There is no cost for entry. You only pay for tasting tickets. All proceeds go to charity. The event Includes 22 Breweries, 1 canned spirits option, 35 chili makers, a great Band, 16,000 feet of tent with heat pumped in and 4000+ of your closest friends to enjoy it with!! More information can be found on the Ada Chili and Beer Festival Facebook Events page.
---
Saturday, December 3, 2022 - Caledonia, MI
Bring your family, friends and neighbors for an evening of celebration in "Down Town Caledonia" for an evening of food, warm fires and festivities! Santa will make two appearances – one from 3:30-5:30 and then again for the tree lighting and to greet visitors afterwards. Along with all the downtown eateries there will also be a flurry of food trucks. Outdoor fireplaces will be placed throughout the downtown to provide warmth and ambiance and inviting all to congregate and visit with one another. Choral and musical groups will wander the streets spreading joy and well wishes. A light parade will start at 6 pm with Santa ushering the parade. More information can be found on the Village of Caledonia website.
---
Saturday, December 3, 2022 - Downtown Grandville, MI
Once again, in place of a traditional parade, Chicago Drive will be closed midday on Saturday, to stage a stationary parade with lit floats, holiday animals, Dickens Carolers, North Pole houses, character photo stops, and stages for Christmas musicians. In the lots near the parade will be train rides, food vendors, a mini Christmas market, the mega tree, a synthetic ice rink, and more. The tree lighting will take place at 5:30 pm by the big tree along Chicago Drive. Additional details can be found on the Christmas at the Commons, A Strolling Holiday Event Facebook Events page.
---
Saturday, December 10-Sunday, December 11, 2022 - Charlton Park, Hastings, MI
Historic Charlton Park's turn-of-the-century village is the setting for Of Christmas Past! Come out and enjoy the sights, sounds, and activities of the late 1800's. The Park's turn-of-the-century village and museum will be staffed by volunteers and adorned with festive decorations. Take a wagon ride, and then visit with St. Nicholas. Guests are encouraged to make holiday crafts, including a candle and yarn dolls. Traditional food and drink samples will be available throughout the village, such as wassail, roasted chestnuts, cinnamon & sugar apples and popcorn. Admission to Christmas Past is $5 for ages 13 and older, FREE for those 12 and younger. There is no additional cost for crafts. More information can be found on the Of Christmas Past Facebook Events page.
---
Saturday, December 31, 2022 - Kalamazoo, MI
New Year's Fest is an all-ages showcase of performing arts that takes place on New Year's Eve in Downtown Kalamazoo. The event features live music, performers, and an array of different types of performing entertainment. Additional details can be found on the New Year's Fest of Kalamazoo Facebook page.
---
West Michigan Christmas Light Displays to Light Up Your Holiday Season in 2022
'Tis the season for sparkling, twinkling Christmas lights. From walk-through and drive through options, find out when and where you can see holiday light displays in West Michigan here: