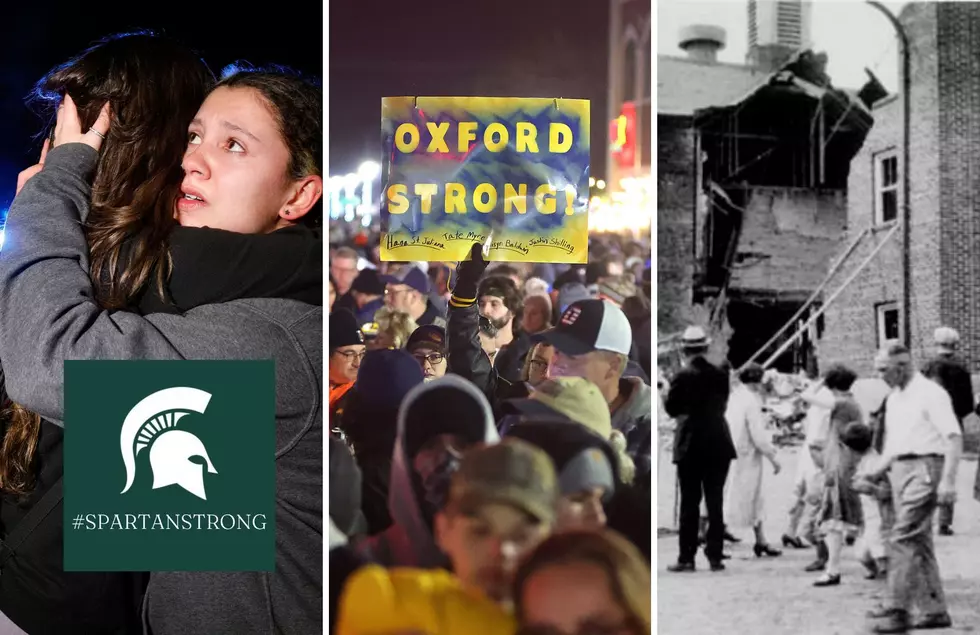 The Deadliest School Attack In Michigan History Happened Almost 100 Years Ago
Credit: Getty / Canva / Wikipedia
According to Education Week, which tracks school shootings, there have been 87 school shootings in Michigan since 2006.
The most recent mass shooting occurred at Michigan State University on February 13th, 2023, resulting in three deaths and five critically injured.
Michigan's History of School Shootings
There have been 81 shootings at 
K-12
 schools in Michigan since 2006
The most recent was at Oxford High School in December 2021 which resulted in four deaths and seven injuries.
People grieving outside a memorial set up outside of Oxford High School.
Michigan's Deadliest School Attack
While the tragic shootings at Michigan State University and Oxford High School are still fresh in our minds they are not the deadliest attacks to happen on a Michigan School.
The deadliest school attack in Michigan's history was the Bath School disaster of 1927, which killed 38 elementary school students and six adults.
Andrew Kehoe spent months before the event placing dynamite and pyrotol under the flooring of the school.
On the day of the massacre, he used rigged explosives to destroy the buildings of his nearby farm moments before the explosives in the school were detonated by an alarm clock at 9:45 AM.
The north wing of the school was destroyed in the explosion, and 36 children and 2 teachers were killed.
I found this video that has more information and gives an in-depth look at the Bath Massacre.
10 Old School Grand Rapids Menus Reveal How Cheap Eating Out Was Back In The Day
Check out these 10 old-school Grand Rapids menus that reveal how cheap eating out was back in the day.
What Did Michigan's License Plates Look Like The Year You Were Born?
Michigan is home to so much motor vehicle history. Let's take a look back in time to see some of the cool and interesting Michigan license plates of the past.
These 10 Rejected Michigan License Plates Are Hilarious
There are over 21,000 personalized plates that have been banned by the Michigan Department of State for being dirty, graphic, or hateful. These are some of them.