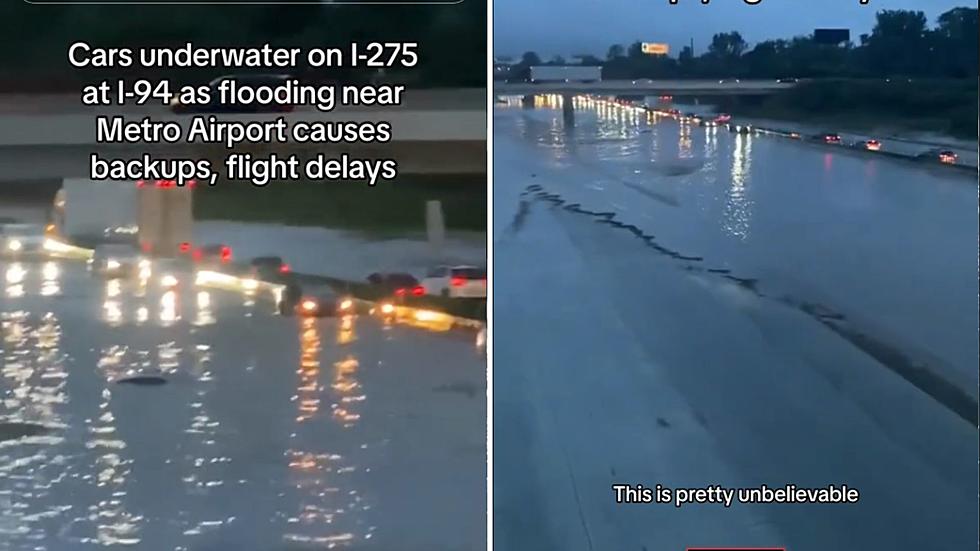 Sunken Motor City: Thunderstorm Leaves Detroit Underwater
WWJ Newsradio 950 TikTok
Michigan is used to experiencing crazy weather when it comes to precipitation as the surrounding Great Lakes add a ton of moisture to the air. This moisture is often absorbed by the clouds leading to larger-than-expected rain, thunderstorms, and even blizzards.
Some of the worst times for storms to come through the state are the transitional periods between seasons as the temperatures are changing. The varying conditions cause some wicked things to occur like flooding, loss of power, and so much more. The end of August is always one of those times to look out for and boy did the Detroit area get ROCKED last night.
Scrolling on TikTok last night while I was listening to the light rain and a few solid booms of thunder, I came across a video that was taken just a couple hundred miles from where I was sitting. There I was staring at parts of I-94, I-275, and the Detroit Metro Airport(DTW) being submerged by rainwater.
There are cars and Semi-trucks that are trying to push themselves through the wading waters, other cars are completely submerged and abandoned, and flights in and out of DTW were being delayed and/or canceled as the storm raged on. This isn't the worst of the worst either as many residents were affected as well.
The roads and highways are backed up as construction was already restricting traffic flow and now there is flooding. On top of the flooding and construction, there are dozens of overturned Semi-trucks as well. Then there are many businesses, homes, and other structures that are without power and are not sure when they will be getting power restored.
If you're in the Detroit area, traveling that way, or have family or other loved ones there, this is something to keep an eye on but realistically this should settle within the next couple of days. My piece of advice is to update the drainage system in this area so this is not a common occurrence.
2013 Grand Rapids Flood
In 2013 the Grand River in Grand Rapids crested at 21.9 feet. These are some of the incredible images captured by Brandon Webb on
YouTube
and from
Big Joe Pesh
10 Michigan Cities Most Likely To Flood
5 Things That Happen In Kalamazoo EVERYTIME It Floods
There are a number of things you can count on when Kalamazoo becomes flooded, so get ready because at anytime this Spring, any or all of these could become a reality.