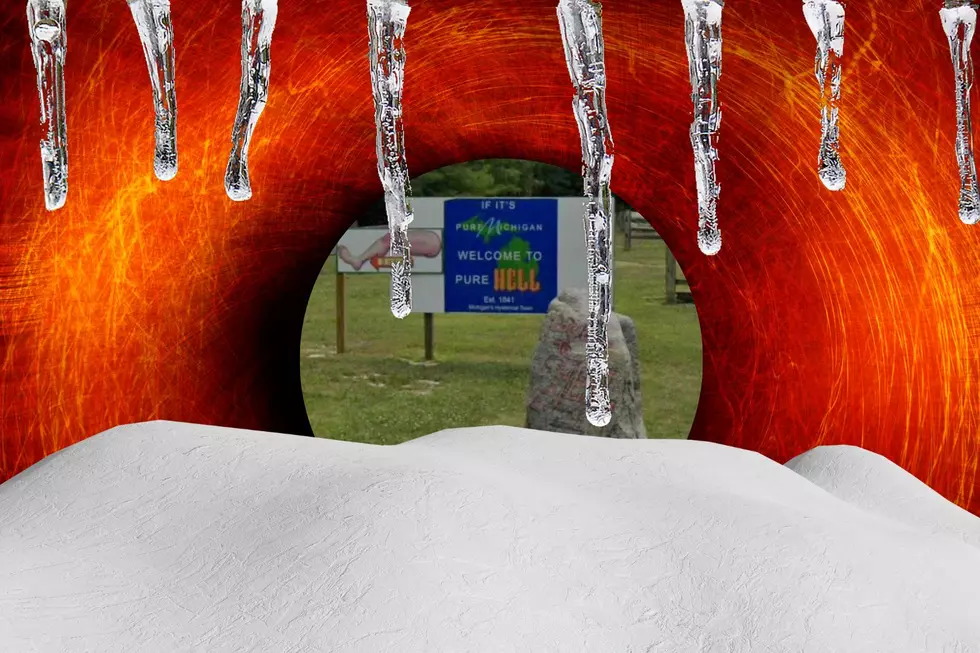 On This Day in 2019 Hell Froze Over
Canva and Google Street View
Remembering the day, 4 years ago, when Hell was shut down due to extreme winter weather.
Hell, Michigan saw temps drop to 13 below zero with a wind chill of 40 below zero. That's not counting a large amount of snowfall.
This led the NBC Evening News to have this hot take on Hell freezing over.  Click here to watch the story if you don't mind hell puns.
A polar vortex had Hell in its cold grips this week in 2019.  It wasn't just hell experiencing freezer burn according to U.S. News,
On Tuesday, wind chill temperatures in dozens of cities across Minnesota and North Dakota plunged to 60 degrees below zero or less, according to the National Weather Service. By Wednesday morning, temperatures had plummeted to 21 degrees below zero in Chicago – a record for the date – and iced the Chicago River. In Minneapolis, temperatures dropped to minus-27 degrees and Green Bay, Wisconsin, dipped to minus-19 degrees.
All hell puns aside, the polar vortex that the United States experience in January 2019 took the lives of at least 22 people.
Hell, Michigan is no stranger to winter weather.  In January, Hell averages a high of 32 and a low of 15.  That's still a long way down to -15.  If someone tells you to go to hell, maybe wait until Spring.
In case you're wondering how Hell handled the Christmas 2022 winter storm.  Hell did well.  They didn't get nearly as much snow as in 2019 and temps only dropped to 0 degrees according to World-Weather.  That pales in comparison to their 2019 situation.
14 Things to Do on a Road Trip from Paradise to Hell in Michigan
If you're going to take a road trip, why not make it a trip to Hell from Paradise. When you make that trip in Michigan, here are 14 things to do along the way.