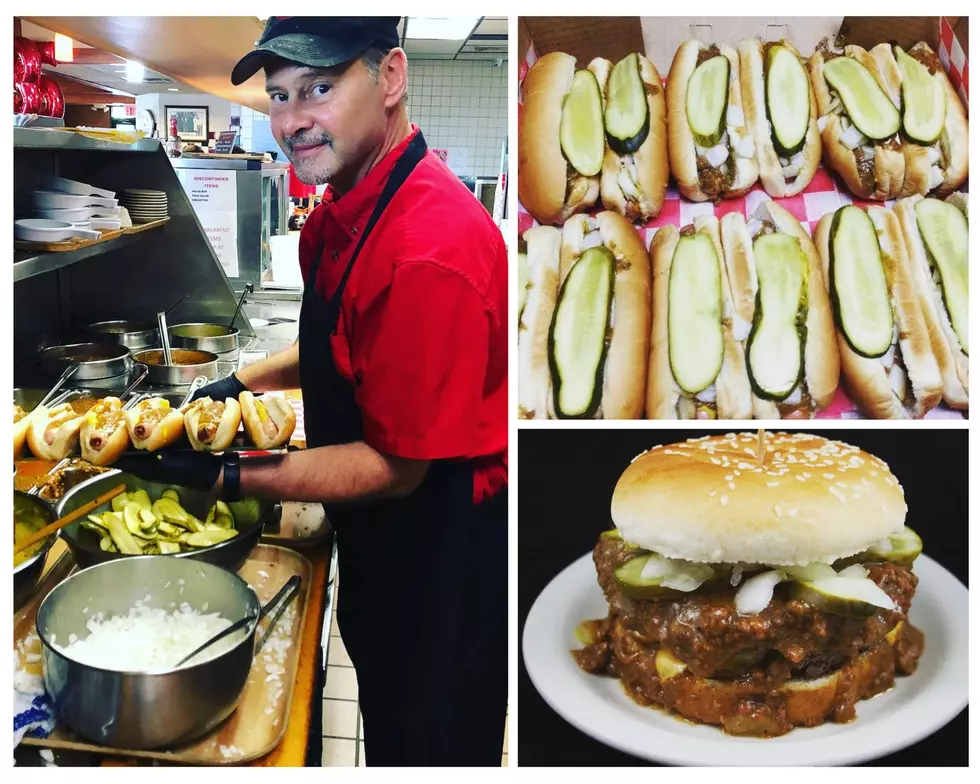 UPDATE: Here's When You Can Get Your First Chili Dog From the Red Hot Inn Food Truck
Red Hot GR Food Truck, Facebook
UPDATE: Last month we shared with you that a beloved Grand Rapids' restaurant would be returning in the form of a food truck. Full story below. 
We now know when and where the Red Hot Food Truck will be making its debut! 
They'll be serving up their famous Red Hot Chili Dogs at Ballpark Series Chili Cook-Off at Sullivan (formerly Valley) Field, October, 1, 2022.
Early bird tickets are $5 (purchase by 8p.m. Sunday, Sept. 25), after that tickets are $10. Gates open at 11a.m. Chili tasting tickets and drink tickets will be available for purchase at event. You can find out more here. 
ORIGINAL STORY: An iconic Grand Rapids' diner know for its chili dogs is making a comeback.
Grand Rapids' Red Hot Inn to Reopen as Food Truck
The Red Hot Inn is returning!
Owner Jim Koukios shared to Facebook on Friday he'll be reviving the longtime Grand Rapids' Restaurant in the form of a food truck.
After 35 years in business at the corner of Leonard and the East Beltine (and another 13 years at the original location on Plainfield) the Red Hot Inn permanently closed in 2019.
Koukios sold the property to Priority Healthy as he explains to Wood TV 8, "they made us an offer we couldn't say no to."
Since then, they've been thinking of a way to bring the Red Hot Inn back. Koukios tells Wood TV 8,
"Our chili is a Koukios family recipe that's been around Grand Rapids for 100 years … and I thought this [the food truck] was the easiest and the best way to get back into the business.
According to Koukious, his family brought the original chili dog to Grand Rapids.
His great uncle started another beloved Grand Rapids' restaurant, Red Lion, which closed in 2004, however the diner's vintage neon sign was recently restored and can now be seen on Bridge St.
Koukios' parents, Jim and Helen, then began their own venture, The Red Hot Inn, in 1971 on Plainfield. In 1984, they moved to the Leonard/ Knapp location.
When Will The Red Hot Inn Food Truck Open?
According to Wood TV 8, Koukious has purchased a customized trailer from Detroit Custom Truck & Trailer, that he'll be hitching to his bright red pick up truck.
The Red Hot GR Food Truck is currently getting wrapped and going through the required healthy, food, and fire inspections. Koukious estimates the food truck will be ready to go by the end of September. To start, the food truck will be able to be booked for private events, and Koukious will bring it to venues around town. Next year, he's hoping to brig The Red Hot GR Food Truck to different events.
Does The Red Hot GR Food Truck Serve?
The new food truck will serve up Red Hot Inn favorites like the Red Hot Chili Dog, Fries, and Soda.
Koukious tells Wood TV 8, that next year he hopes to expand The Red Hot GR Food Truck's menu with Greek chicken salad, and possibly some breakfast items, and burgers.
Follow The Red Hot GR Food Truck on Facebook for updates!
West Michigan Bars, Restaurants And Places You miss
These are bars, restaurants, and places people in West Michigan miss
50 Newish Restaurants & Bars In West Michigan You Should Check Out
These are newish restaurants and bars people in west Michigan recommended for good food and drinks.
10 Favorite Ice Cream Shops in Grand Rapids
West Michigan is a GREAT place for ice cream. Here are some Grand Rapids' ice cream shops locals love to visit for hand-dipped cones, soft serve, sundaes, shakes, flurries, slushies - or even hot dogs, burgers, fries, and more!