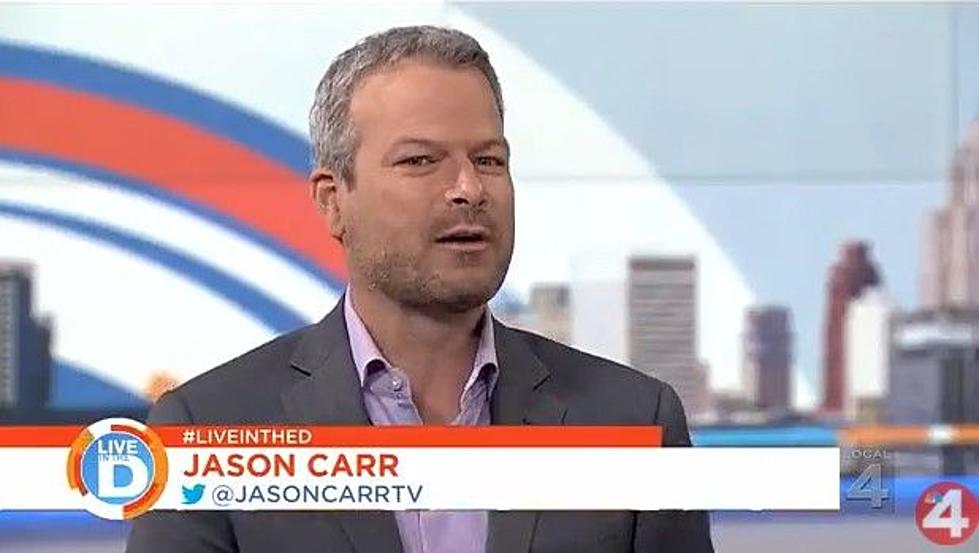 Eccentric News Man Jason Carr Fired From Detroit's WDIV-TV
YouTube
After a handful of years in Detroit, former Flint news personality Jason Carr has been terminated from his position at Detroit TV station WDIV-TV.
Reason for Carr's Dismissal
The exact reason for Carr's dismissal is unclear but published reports indicate that it was the result of an incident in which the eccentric news personality expressed frustration with some of his coworkers. He was previously upset with some members of management at the station, but then it seemed more that his coworkers were bothering him. WWJ reported that it seems to be a mixture of both.
The Detroit News reports that Carr yelled at a group of his coworkers, was taken off the air as a result, and then put back on the air. Upon returning to work after the December 6 incident, Carr allegedly went on the air and expressed his frustration with his coworkers and the management team at WDIV-TV, also known as 'Local 4.'
Many users in the r/Detroit subreddit spoke in favor of Carr's actions, as they claim they have heard through friends of friends that some of Carr's coworkers and management staff may have been somewhat deserving of some pushback.
Neither Carr nor the TV station has made any public or social media comments about his dismissal, although all references to him have been removed from WDIV's website and he is inactive on their Facebook page.
In Flint, Back in the Day
Carr was a well-known news personality at Flint TV station WJRT (ABC-12) before moving on to WJBK-TV in Detroit. He joined WJBK's competitor WDIV-TV in 2018.
Although he's become more polished during his tenure in Detroit, Carr's on-air presentation during his days at WJRT-TV could be described as 'a bit outlandish,' not necessarily conforming with the buttoned-down style of many of his contemporaries. Many people liked him for this reason, others did not, but he was somewhat of a polarizing figure.
It's at WJRT-TV in Flint where Carr met his wife, Taryn Asher, who remains with Detroit's WJBK-TV.
Keep reading to see where other news anchors have landed since leaving the Flint/Saginaw TV market.
Flint + Saginaw's Most-Popular TV Anchors - Where Are They Now?
A lot of highly talented people have sat behind the anchor desks at the area's TV stations.
We're taking a look at some of the area's most popular news, weather, and sports anchors who have visited our homes electronically and then moved on.
Who Was the First to Perform at These Popular Michigan Venues?
We took a look at 10 major venues in Michigan and did a little digging to find out who was the first to take the stage.
Aretha Franklin's Detroit Golf Club Home
Another home belonging to the Queen of Soul has hit the market. This one, a 7,000-square-foot home on the Detroit Golf Club is listed for $975,000.