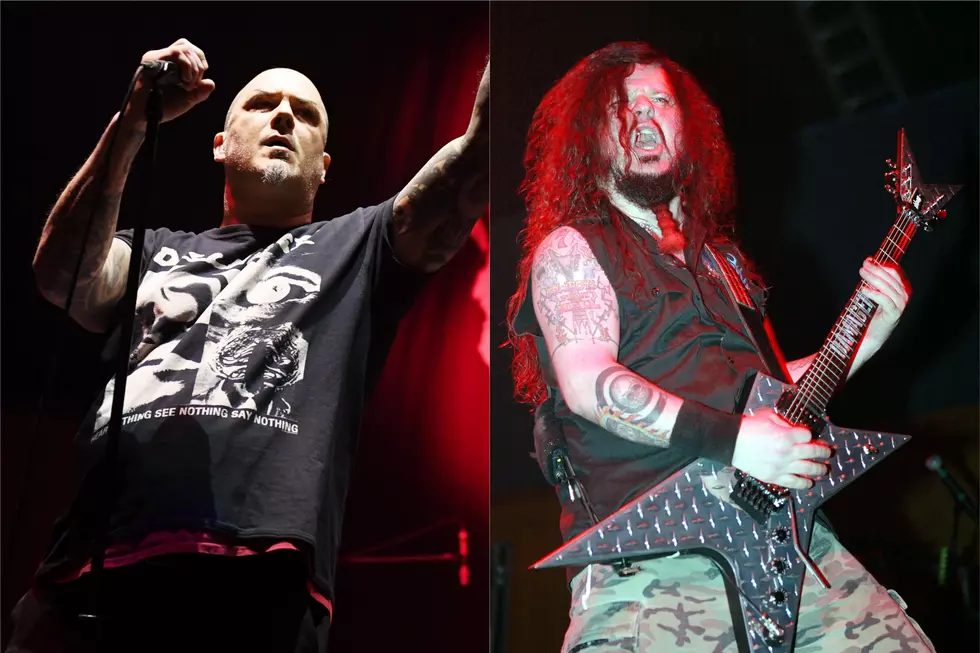 Philip Anselmo on Dimebag Darrell's Death: 'I've Yet to Come to Terms With It'
Ethan Miller / Scott Gries, Getty Images
Dimebag, whose real name was Darrell Lance Abbott, was murdered onstage in December 2004 amid a performance by his post-Pantera band Damageplan. He was 38. The shooting at an Ohio nightclub also took the lives of three others. With Dimebag at the time was his brother and Pantera drummer Vinnie Paul Abbott, who survived the melee but succumbed to heart failure last year at the age of 54.
In his posting, Anselmo chose to remember the good times he spent with the guitarist while acknowledging the difficulty of accepting the manner in which he died
"The way he went out, using the word 'murder' is always a stark, cold, hideous thing," Anselmo inscribes in the emotional essay republished by Rolling Stone on Sunday (Dec. 8), the anniversary of Dime's death. "None of this shit gets easier for me. It actually keeps getting tougher and tougher."
The current Philip H. Anselmo and the Illegals vocalist continues, "I don't see the sense. I don't see the everything-happens-for-a-reason attitude. This year is the toughest yet. But when I think about Dimebag, 99 percent of the time, it's always the hilarious great times, and then one percent of the time it's regrettable times, on my part. I think of Dime every day of my life."
Elsewhere in the tribute, the frontman behind other heavy acts such as Down and Superjoint recalls Pantera's early days when Dimebag went by a different stage name. As diehards are aware, the influential metal band was a bit more glam before 1990 album Cowboys From Hell.
"When I joined the band, he was going by 'Diamond Darrell,'" Anselmo recalls. "I was always in the process of morphing the band into what we eventually did become, by controlling the cassette deck and turning them guys onto early Mercyful Fate, Slayer and shit like that. After a while, I was like, 'This 'Diamond' shit ain't gonna cut it anymore. Brother, you ought to change that shit to 'Dimebag,'' and the look on his face was priceless, 'cause I could tell he loved it right off the bat."
Read Anselmo's full Rolling Stone tribute to Dimebag here.
See Dimebag Darrell in Top 66 Hard Rock + Metal Guitarists of All Time