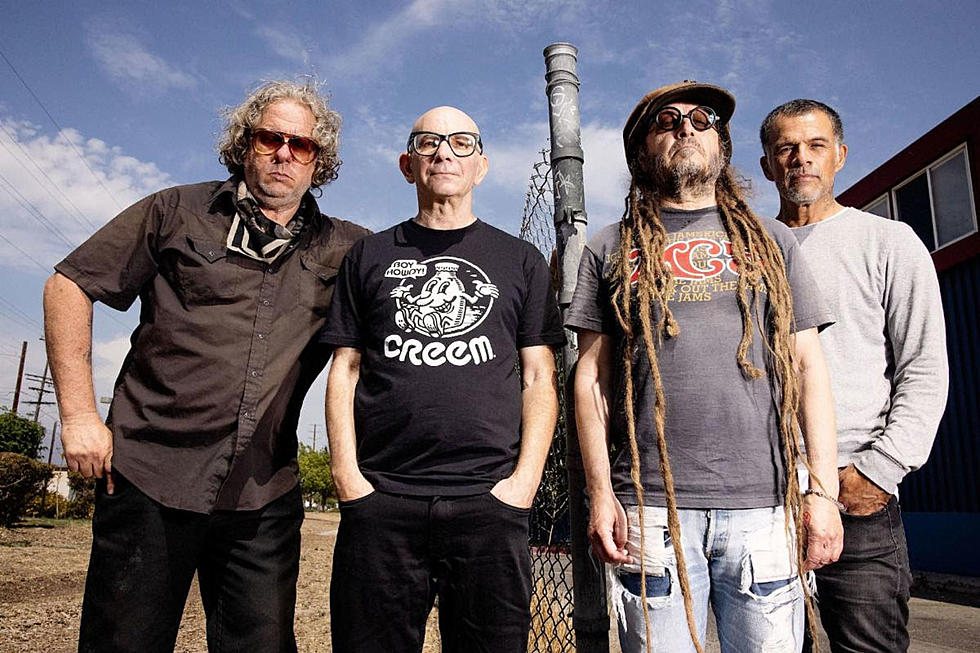 Circle Jerks Postpone Their Planned Halloween Shows Due to COVID-19
Photo by Atiba Jefferson
Circle Jerks have postponed three Halloween weekend concerts after someone in the influential punk band's touring party tested positive for COVID-19.
The shows were plotted across the Southwestern U.S. with planned support from the Adolescents and Negative Approach — they'll be rescheduled to a later date. Circle Jerks are currently on their first North American tour in 15 years, behind the 40th anniversary reissue of their landmark album Group Sex, which is now available digitally and in vinyl formats.
See Circle Jerks' remaining tour dates below.
The band said, "Due to a positive Covid-19 test within our touring entourage, for the safety of all concerned, we must sadly postpone our shows in Albuquerque on Oct. 27, Tucson on Oct. 29, and Phoenix on Oct. 30."
They continued, "We will do our best to announce rescheduling of these dates as early as possible this week. All tickets will be honored at the rescheduled shows. For those who cannot attend, refunds will be issued at point of purchase. Thanks and stay tuned!"
Since artists began touring again after a largely concert-less 2020, many have canceled or postponed shows due to the contagious disease behind the pandemic.
Rock and metal musicians who've tested positive for COVID-19 this year include Bruce Dickinson (Iron Maiden), Chad Gray (Mudvayne), Sean Killian (Vio-Lence), Sebastian Bach (ex-Skid Row), Gene Simmons and Paul Stanley (KISS), Jonathan Davis, Munky and Ray Luzier (Korn), and members of Tesla and Lynyrd Skynyrd. Metal singer Eric Wagner died after being hospitalized with COVID pneumonia.
Circle Jerks North American Tour Dates
Dec. 10 - Baltimore, Md. @ Soundstage *
Dec. 11 - Norfolk, Va. @ Norva *
Dec. 12 - Carrboro, N.C. @ Cat's Cradle *
Dec. 14 - Athens, Ga. @ 40 Watt Club *
Dec. 15 - Jacksonville, Fla. @ Underbelly *
Dec. 17 - St. Petersburg, Fla. @ Jannus Live *
Dec. 18 - Orlando, Fla. @ The Plaza Live *
Dec. 19 - Fort Lauderdale, Fla. @ Culture Room *
Feb. 18 - San Diego, Calif. @ Observatory #
Feb. 19 - Anaheim, Calif. @ House of Blues #
Feb. 20 - Ventura, Calif. @ Ventura Theatre #
Feb. 22 - San Luis Obispo, Calif. @ The Fremont #
Feb. 23 - Santa Cruz, Calif. @ Catalyst #
Feb. 25 - San Francisco, Calif. @ Fillmore #
Feb. 26 - Sacramento, Calif. @ Ace of Spades #
Feb. 27 - Reno, Nev. @ Clutch Cargo #
March 1, 2022 - Boise. Idaho @ Knitting Factory #
March 2, 2022 - Bend, Ore. @ Midtown #
March 4, 2022- Vancouver, B.C. @ Commodore #
March 5, 2022- Seattle, Wash. @ Showbox #
March 6, 2022 - Portland, Ore. @ Roseland #
March 17, 2022 - Salt Lake City, Utah @ Grand Room !
March 19, 2022 - Denver, Colo. @ Ogden Theatre !
March 21, 2022 - Lawrence, Kan. @ Granada !
March 22, 2022 - St. Louis, Mo. @ Red Flag !
March 24, 2022 - Minneapolis, Minn. @ First Ave !
March 25, 2022 - Chicago, Ill. @ The Vic !
March 26, 2022 - Detroit, Mich. @ St. Andrews Hall !
March 28, 2022 - Buffalo, N.Y. @ Town Ballroom !
March 29, 2022 - Pittsburgh, Pa. @ Mr. Smalls !
March 30, 2022 - Cleveland, Ohio @ House of Blues !
April 1, 2022 - Toronto, Ontario @ Phoenix !
April 2, 2022 - Montreal, Quebec @ Corona Theatre !
April 3, 2022 - Quebec City, Quebec @ L'Imperial Bell !
April 5, 2022 - Burlington, Vt. @ Higher Ground !
April 7, 2022 - Boston, Mass. @ Paradise !
April 8, 2022 - Asbury Park, N.J. @ Stone Pony !
April 9, 2022 - Philadelphia, Pa. @ TLA !
April 14, 2022 - New York, N.Y. @ Irving Plaza !
April 16, 2022 - Washington, D.C. @ Black Cat !
April 19, 2022 - Asheville, N.C. @ TBA !
April 21, 2022 - Nashville, Tenn. @ Brooklyn Bowl !
April 22, 2022 - Atlanta, Ga. @ Masquerade !
April 23, 2022 - New Orleans, La. @ TBA !
April 26, 2022 - Austin, Texas @ Mohawk !
April 29, 2022 - San Antonio, Texas @ Paper Tiger !
April 30, 2022 - Houston, Texas @ White Oak !
May 1, 2022 - Dallas, Texas @ Granada Theater !
May 13, 2022 - Los Angeles, Calif. @ Palladium !^
# with Adolescents, Negative Approach
* with Municipal Waste, Negative Approach
! with 7 Seconds, Negative Approach
^ with Bouncing Souls
Top 25 Punk Albums of All-Time