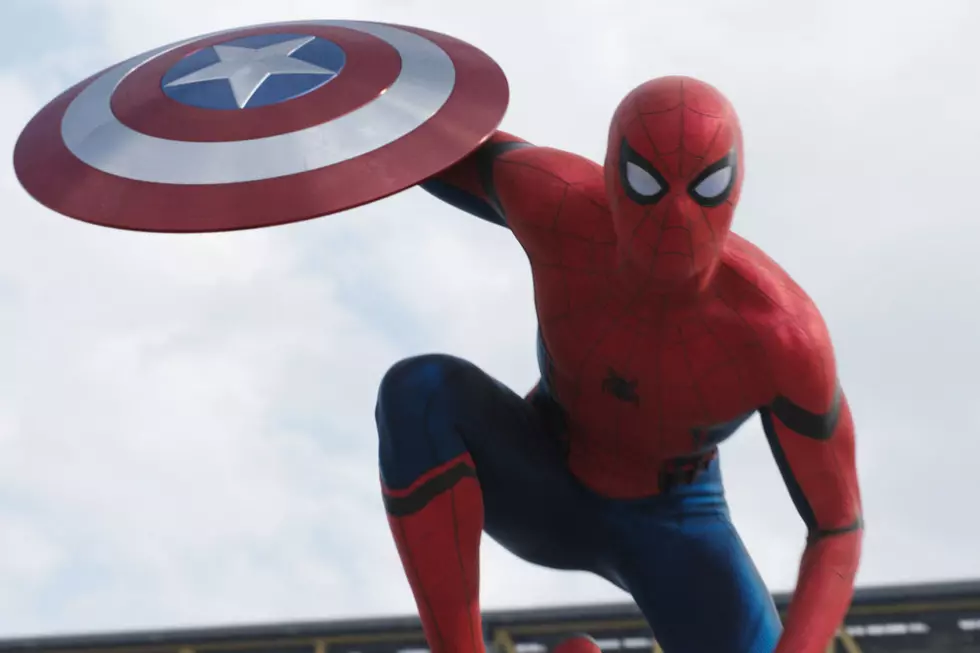 'Captain America: Civil War' Directors Say You'll 'S— Yourself' Over Spider-Man
Marvel
The big Spider-Man reveal at the end of the Captain America: Civil War trailer certainly got the internet, and all of superhero fandom, in a tizzy. There were those that absolutely loved it and then there were those who were left disappointed. No matter where you stand this point, six weeks before it opens in theaters, directors Joe and Anthony Russo promise that when you see Spider-Man in the film, you'll crap your damn pants.
The Russos spoke to Forbes from the confines of their editing bay where Marvel is keeping them hostage until they deliver their cut of Captain America: Civil War and explained that they're aware there was a mixed reaction to the new Spidey, but promise good things. How good? S--- yourself good.
The design of the costume is what it is. That's the design that we love, it's the design that Kevin Feige loves and so on. He's a very popular character so it's always going to be controversial, people are always going to love or hate what you do with him, but all we can do is make sure that we love it, that we are true to ourselves and true to how we feel about the character and then hope that everybody else digs it. And there is still effects work that needs to be done on it […] At the end of the day, the purpose here is to deliver a Spider-Man that people will s–- themselves over.
The classic Steve Ditko era design may have turned off some younger comic fans who are more familiar with Todd McFarlane's wide-eyed Spider-Man, but the Russos says it is within their purview to adapt the costume as Spidey evolves. "It is certainly in our vocabulary to develop [Spider-Man's costume] into something more extreme as the storytelling requires." (As for whether Spider-Man will appear in their next Marvel film, Avengers: Infinity War, they said, "To be determined. We'll see.")
They also clarified that there are specific reasons for why Spider-Man's costume looks the way it does saying, "There are things that people will discover when they see the film about why the suit operate the way it does, why the eyes move, all that stuff is substantiated. Everybody wants the answers yesterday but then what would be the point of seeing the movie?"
Well, here's one reason to see the movie: the post-credits scene. The Russos also threw in one little tidbit about the Captain America: Civil War post-credits scene…or scenes.
We can't say who is going to be in it but we can say that there certainly could be one, or two, maybe three. We can confirm that you should stay sat in your seats when the movie is done.
Considering that Marvel post-credits scenes traditionally look towards the next movie on the roster, you should probably expect to meet Dr. Stephen Strange in some capacity.
Captain America: Civil War opens in theaters on May 6, just enough time for you to get a new pair of underwear.