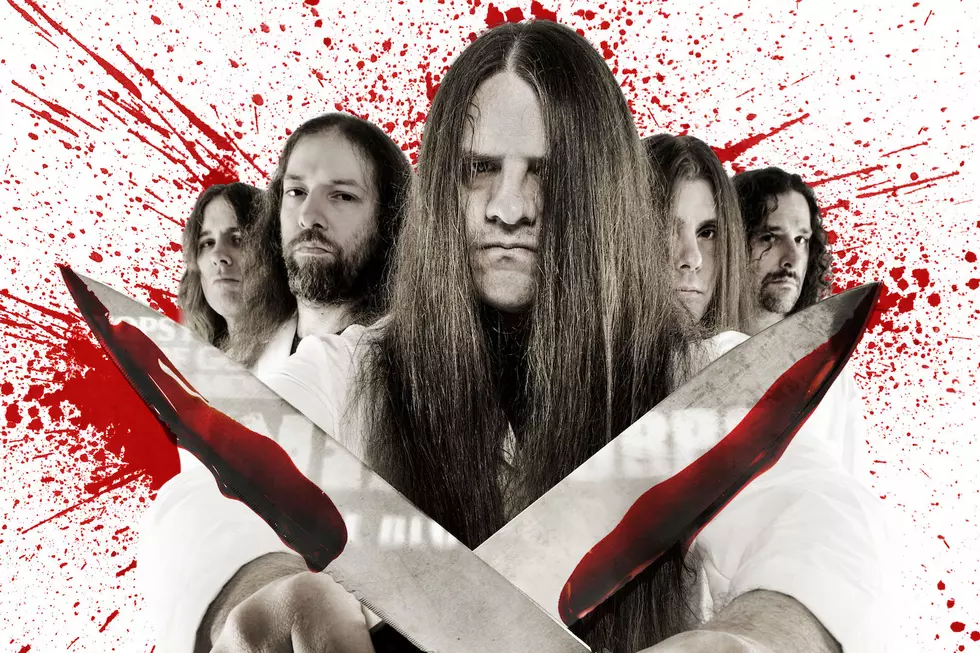 Cannibal Corpse, Morbid Angel + More Announce 2019 Tour
Steve Brown, Getty Images
Cannibal Corpse kicked off their U.S. tour with Hate Eternal and Harms Way at the beginning of the month and as 2018 winds down, next year is only getting busier. The death metal institution have been announced as the headliners of the 2019 Decibel Magazine Tour.
The 19-date trek begins on Feb. 17 in San Antonio, Texas and also features the legendary Morbid Angel as well as Necrot and Blood Incantation, making for a pulverizing bill. Cannibal Corpse won't be able to complete the run, however, and will drop off after March 7. New York's Immolation will fill the void beginning on March 8 through the end of the tour in Tampa, Florida on March 17.
"We're really looking forward to our second appearance on the Decibel Tour; they always put together a killer line up and this time is no exception," commented Cannibal Corpse bassist Alex Webster. "We're particularly excited to be hitting the road with our friends Morbid Angel. In fact, this will be the first time we've toured together in the USA."
Morbid Angel's Steve Tucker adds, "Everyone here in the Morbid Angel camp are stoked to do this tour with Cannibal Corpse. To celebrate, Morbid Angel will be performing a mean-ass set of songs that will cover the entirety of our years of kicking ass." Guitarist Trey Azagthoth reassured fans, "We will be adding some of the older songs back to our set. See you all there."
Cannibal Corpse, Morbid Angel, Immolation, Necrot + Blood Incantation Tour Dates
Feb. 17 - San Antonio, Texas @ Alamo Music Hall
Feb. 19 - Tucson, Ariz. @ Club Xs
Feb. 20 - San Diego, Calif. @ The Observatory
Feb. 21 - Los Angeles, Calif. @ The Fonda Theater
Feb. 22 - Santa Ana, Calif. @ The Observatory
Feb. 23 - San Francisco, Calif. @ The Regency Ballroom
Feb. 25 - Portland, Ore. @ Roseland Ballroom
Feb. 26 - Seattle, Wash. @ Showbox Market
Mar. 01 - Denver, Colo. @ The Oriental Theater
Mar. 02 - Kansas City, Mo. @ The Truman
Mar. 03 - Minneapolis, Minn. @ Skyway Theater
Mar. 04 - Chicago, Ill. @ The Concord
Mar. 07 - New York, N.Y. @ Playstation Theater
Mar. 08 - Philadelphia, Pa. @ TLA*
Mar. 09 - Worcester, Mass. @ Palladium*
Mar. 10 - Baltimore, Md. @ Baltimore Soundstage*
Mar. 11 - Raleigh, N.C. @ Lincoln Theater*
Mar. 13 - Atlanta, Ga. @ The Masquerade*
Mar. 14 - Tampa, Fla. @ Orpheum*
* no Cannibal Corpse, Immolation playing instead
The Best Death Metal Album of Each Year Since 1985