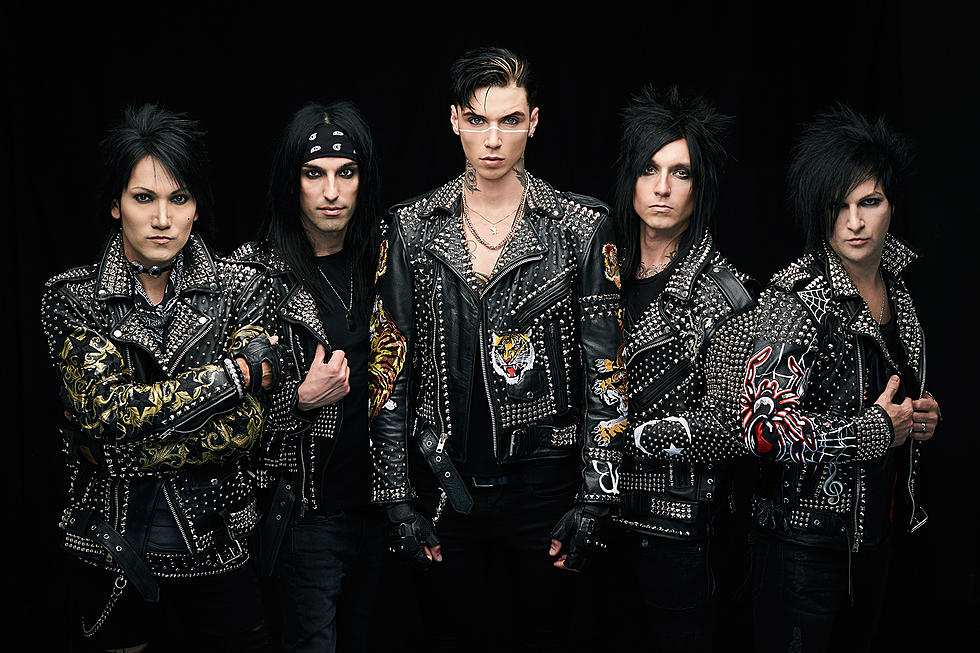 Black Veil Brides Reveal Haunting New Song 'When They Call My Name' From Upcoming 'Vale' Album
Photo by Jonathan Weiner
Fans have patiently waited and the upcoming turn of the calendar year will finally yield Black Veil Brides' fifth studio album. But before the disc drops, the band have continued the promotion of the disc by releasing a second new song. "When They Call My Name" has just dropped, helping to set the table for their upcoming disc Vale.
With a haunting keyboard opening, twinkling back and forth between keys, a darker tone is set for "When They Call My Name." "I'm gonna get out if it's the last thing that I do" is an opening line that definitely piques the curiosity and sets the tone for what's to come, as a somewhat searching Andy Biersack pleads in the chorus, "I need you / To tell me everything will be alright / To chase away the voices in the night / When they call my name / Have I gone insane?" After a more haunting start to the song, the chorus definitely segues into some more energetic territory, concluding with some anthemic "whoa-oh-ohs" that are certain to elicit sing-alongs when played live. "When They Call My Name" is a change of pace from the band's recently released song "My Vow," which was a more driving rocker. You can hear that track here. As for "When They Call My Name," you can hear the brand new tune in full in the Spotify player below.
As stated, "When They Call My Name" will be featured on Black Veil Brides fifth studio album. The disc, titled Vale, is set for release on Jan. 12 through Lava/Republic Records after initially being considered for a street date this fall. Back in August, Biersack revealed that the band didn't want to rush on getting the final artwork and assets completed for the disc and also had plans for a big tour that would coincide with the release by pushing it into 2018. That tour ended up being a co-headlining pairing with Asking Alexandria that will kick off Jan. 10 in Salt Lake City, two days prior to the album's release. See the full itinerary and get ticketing information via the band's website.
Recently speaking on the album title, Biersack stated, "The Latin translation of Vale is 'be well, be strong!' and central to the message of this record. We hope to continue to inspire our fans and friends to embrace their own individuality and inner strength." He also revealed that a common tie from a previous record would carry over, explaining, "The central narrative once again finds 'The Wild Ones' characters facing the challenge of moving on from the pain and anguish of their past and looking to a new chapter in their lives. This concept is one that is near to my heart and I believe will resonate with those that find themselves cast on the fringe of society."
Pre-orders for the Vale album are currently available in the platform of your choosing here.
Black Veil Brides, "When They Call My Name"
Black Veil Brides' Andy Biersack: Dramatic Fan Fiction Reading