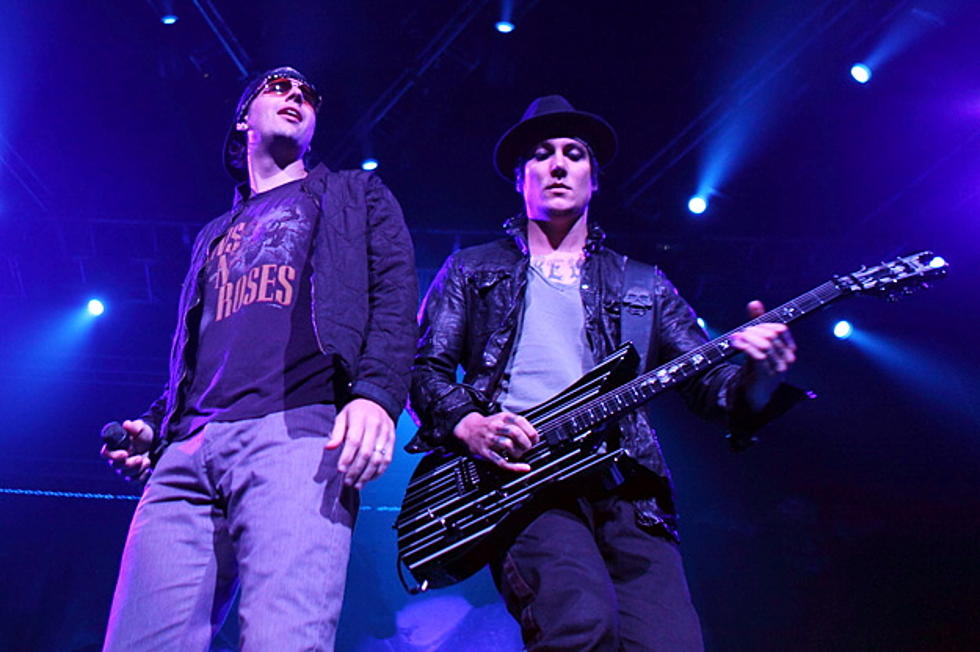 Avenged Sevenfold Members Guest on Machine Gun Kelly Track
Mary Ouellette, SheWillShootYou.com
Rap/metal collaborations have been common since Anthrax and Public Enemy teamed up for 'Bring the Noise.' Now, Avenged Sevenfold vocalist M. Shadows and guitarist Synyster Gates have lent their talents to a new song by hip-hop artist Machine Gun Kelly.
'Save Me' (listen below) is the opening song on Kelly's debut album 'Lace Up,' which was released today.  He talked about the track recently on MTV's RapFix Live. "I actually got one of the greatest metal bands to be featured on it, Avenged Sevenfold. It's definitely an eargasm if you're into cross genre."
In addition to A7X, 'Lace Up' has guest spots from hip-hop luminaries such as Lil Jon, Waka Flocka Flame, Lil Jon, DMX, Young Jeezy, Twista, Tech N9ne, Dubo and Bun B.
Speaking of Avenged Sevenfold collaborations, Shadows also shared vocals with Chris Jericho on the song 'Sandpaper' off Fozzy's recent album 'Sin & Bones.' He recently joined Fozzy  onstage in Los Angeles to perform the song.
Listen to Machine Gun Kelly feat. M. Shadows and Synyster Gates, 'Save Me' (Explicit Language)